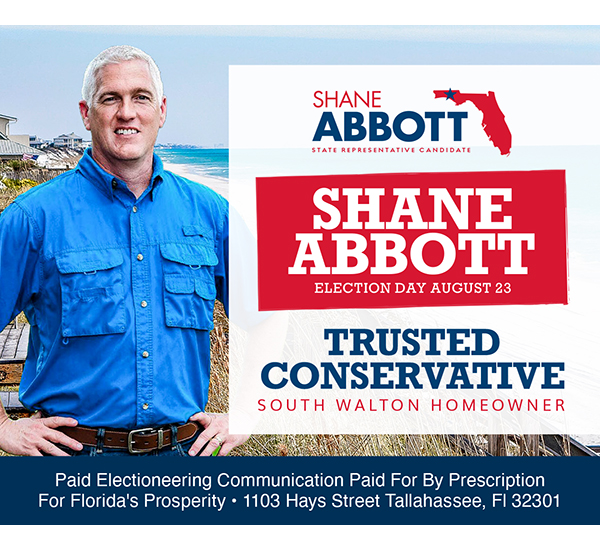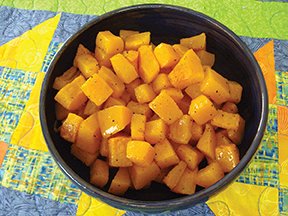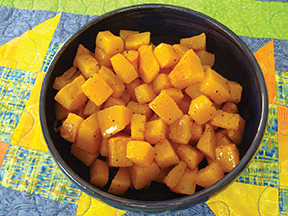 It seems like fall dropped in our laps with cooler weather. That weather makes the taste buds pop as we think of pumpkin pie, cranberry relish, and all the other fixins.' Here at Emerald Coast Olive Oil, we're over the moon about two new products. Crown Mulling Spices make an amazing, easy pumpkin dip, delicious apple crisp, and well, mulled cider or wine. The sugar/spice mix comes with 20 recipes for everything from French Toast to Sweet Potato Casserole.
If you need to warm up a bit, how about Jalapeno Gold which is pretty much jalapeno jam. We love it on cream cheese and on burgers. It's perfect for the big game!
Now that butternut squash is fresh and tender, we love this recipe that can be tossed in the oven or on the grill with little fuss and clean-up is a cinch.
Roasted Butternut Squash
1 medium butternut squash, peeled, seeded and cut in
1 ½ inch chunks
2 ½ tablespoons Tuscan Herb, Butter Flavor or Garlic
Olive Oil
2 ½ tablespoons Cinnamon Pear Balsamic Vinegar
½ teaspoon salt
½ teaspoon black pepper
½ cup pepitos or cooked chopped bacon (optional)
Place the squash, olive oil, vinegar, salt and pepper in a bowl and toss. If roasting in the oven, pour mixture on a foil-lined baking sheet. Roast at 450° for 20-30 minutes, tossing occasionally. When the squash is tender, when poked with a fork, it's done.
If roasting on the grill, place all ingredients on a piece of foil and seal the edges. Place on a hot grill and roast for 20-30 minutes at medium high heat, turning the packet over occasionally. Poke through the foil with a fork to test for doneness. When it's tender, it's done.
Top the squash with pepitos or bacon if desired and serve.
Emerald Coast Olive Oil is located in Destin and Panama City Beach. 850-460-2210. www.EmeraldCoastOliveOil.com