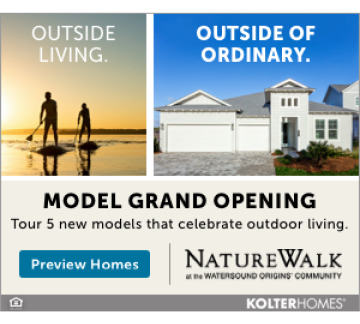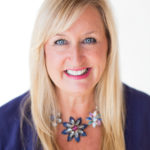 By Lori Leath Smith, Publisher
November is the month of Thanksgiving; that time of year when we gather with friends and family to ritually offer thanks and appreciation to individuals (current or past) who have brought some sort of blessing into our lives. It causes me to reflect upon those moments or people whom I am thankful for. According to Merriam-Webster's, thankful means "conscious of benefits received." I believe we receive many benefits and blessings daily, even if we aren't always aware of it.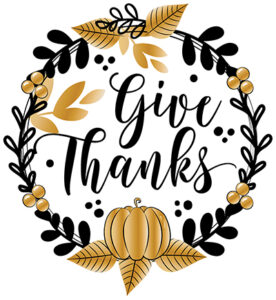 As a culture, we learn to say 'thank you' at a very young age; but the phrase is far more than just a matter of good manners. Sharing the phrase 'thank you' could be a highlight of every day, every week and every month, before and after November! Each year, we give you the opportunity to share "what" you're thankful for on these pages. We do it, because through it, we hope you'll be able to reflect and recognize the many blessings abounding around us.
Our team at Bay Life is thankful for your participation, editorial contributions and support. Without you, Bay Life would not have the same flavor, popularity and appeal—you make all the difference!
Bay Life asked, "What are you thankful for this year?"
"We are thankful for our community and the fabulous people who seek our help. We are America Proud!"
– April Pretz, EasyCare Health and Wellness Clinic
"I am thankful to work alongside an awesome team of people at the Frances Roy Agency. You all are the best of the best! To Shantelle, thank you for being the best mentor and leader, your guidance means more than you know."
– Hillaree Durso, Senior Director of Content and Marketing
"During these trying times, Bayside to Seaside Realty is most thankful for faith in humanity and community. Keep moving forward #850!"
– Gary Jennings, Bayside to Seaside Realty
"I'm thankful for all the fabulous patients I've met and helped who have spread the word to make us so successful. And thank you for "Life" publications for their tremendous support as well.
—Dr Chern, MD, Hormone Restoration Center
"My Thanks goes out to those who I see achieve their goals, watching others succeed at their craft and grateful in helping others."
– William Blanken, Blanken Management
"Everything and everyone. I am thankful for absolutely everything in my life—the good, the challenges, the heartache. Everything is a lesson and experience to be appreciated. All day, every day, I give thanks."
– Tricia Brunson, President & CEO, Niceville Valparaiso Chamber of Commerce
"There are so so very many things to be thankful for: I am thankful for my salvation, my family, my health and my friends. Oh, and did I mention, I live in FLORIDA!
– Jimmie Boisjolie, Marketing Director, Bluewater Bay Marina Complex
"I am thankful for the brave, dedicated and talented health care professionals who have been leading our community through these challenging times. We are all blessed by their service."
– Leslie Moland, APR, CPRC, Director of Business Development and Communication, White-Wilson Medical Center, P.A.
"I am thankful for my salvation, family, friends and living in the Free State of Florida, where our freedoms remain intact."
– Pastor Doug Stauffer
"I am thankful for OCSD students, families and employees who provide a daily reminder of the importance of striving for excellence in everything we do!"
– Marcus Chambers, Okaloosa County Superintendent
"I truly am thankful for my family and friends. The love and relationships I am blessed with are a testimony to how lucky I am to be here in this beautiful place. Plus, I am a new grandpa. Woo hoo!
– Greg Durette, Florida Health Connector
"I'm grateful for the privilege to share God's blessings with those He guides to our doors at CALM and for a community that believes and supports our mission."
– Chanie Erb, CALM President
"I am thankful for so much—family (two grandkids so far), friends, this community, for our Founding Fathers and our first Thanksgiving that we celebrate today."
– Debby (with a Y) McKinney, Be Real Media, Inc.
"I am blessed to live in a "City of Refuge" as prophesied. All of our elected and unelected officials/civil servants are God fearing, constitutionally conservative patriots."
– Al Niedbalski, BE Niceville
"Grateful for sooo many things this year—friends, family, clients, my awesome Master Networks group of solopreneurs, for waking up every day, for laughter, for non-political conversations, for all the writers who write great, informative, uplifting articles in Bay Life & Destin Life. Every day I write down three things I am grateful for and there's just not enough room here to share them all!"
– Gail Pelto, Bay Life/Destin Life Columnist, Keller Williams
"One of the many things that I am thankful for this year is that I know God is in control of all that is going on in our crazy world. I am also thankful that God doesn't just focus on the large view, but cares about what happens in each individual life. I know that He loves me and as He has promised, is working all things for my good and His glory."
– Myrna Conrad, Bay Life/Destin Life Columnist
"We are so grateful for our family, friends, our community, meaningful work we love and living in a beautiful place that nourishes our souls! Happy Thanksgiving."
– Todd & Stephenie Craig, Journey Bravely Counseling & Coaching
"I'm thankful for change. This year I took the leap to become a full-time artist and open my own gallery. Best life decision ever."
– Estelle Grengs, Artist