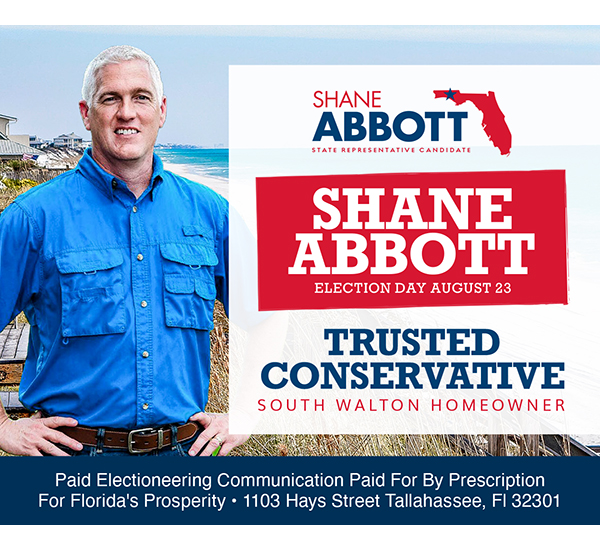 By Eddie Bird
Every year, graduating seniors of Northwest Florida apply for six prestigious scholarships across four counties to honor Taylor Haugen. The Taylor Haugen Foundation originally offered a scholarship to a Niceville High School senior after Taylor Haugen passed away from an abdominal injury sustained while playing football for Niceville High School in 2008. The Taylor Haugen Foundation has expanded the scholarships to be offered to one senior from each county of Santa Rosa, Walton, and Bay; with 3 scholarships awarded to Okaloosa County students with one being a Niceville High School recipient.
Applicants are asked to write an essay speaking of their perseverance and their "Don't Quit… Never Give Up" story. The criteria is based on Taylor's character traits of academics, athletics, leadership, community service and Christian faith as well as his motto of "Don't Quit…Never Give Up."




Caitlyn Stringfellow was awarded the Taylor Haugen Scholarship dedicated to a Niceville High school student. She graduates with a 4.2 GPA and over 200 hours of community service. Stringfellow won the state championship with the track and field team while also participating with the band. She faithfully volunteers by serving meals to the community and mentoring younger girls. She will attend Florida State University after a study abroad.
Caroline Seeling of Rocky Bayou Christian School won one of the two Okaloosa County scholarships. She will graduate as the valedictorian with a 4.5 GPA and 299 community service hours. She is an accomplished athlete in swim and cross country, even while suffering through disorders that affect her connective tissues. Seeling also competed and placed first in numerous state level academic competitions. Seeling plans to attend Covenant College in the Fall.
A Fort Walton Beach High School student, Colby Orcutt, received second of the Okaloosa County scholarships endowed by Roy and Clara Parisot. Graduating 3rd in her class with a 4.7 GPA and over 1,200 community service hours. She was recently named the national high school Heisman winner. She lettered in soccer, swim, track and cross country while also competing with the national youth modern pentathlon Olympic team. After an impressive athletic career, including multiple state championships and all state teams, Orcutt will join the rowing team at Michigan State.
Emma Dawson of Milton High School is recognized as the Santa Rosa County Taylor Haugen Scholarship winner. She will graduate with 3rd in her class with a 4.7 GPA and 582 hours of community service. She lettered in volleyball, weightlifting, lacrosse, and track. Dawson faithfully gives back to her school and community. Serving as the FCA and SGA president she was able to provide over 30,000 pounds of food and organized Christmas toy drives. She will attend Troy University.
Alexia Fisher is named as the Walton County Taylor Haugen Scholarship endowed by Dugas Family Foundation. She will graduate top 10 in her class with a 4.2 GPA and over 250 hours of community service. She captained the basketball team while also lettering in tennis and track. Fisher served as the FCA club president and was a part of numerous other clubs. Her commitment to show her friends the love of Jesus stood out to the scholarship committee. Fisher plans to become a physician's assistant after studying at Florida State University.
Charles Campbell, Jr., of Bay High School is awarded the Bay County Taylor Haugen Scholarship endowed by St Joe Community Foundation. He will graduate with a 4.2 GPA and 200 hours of community service. Campbell told an inspiring story of how he earned a spot on the FSU football team after being placed in foster care. He will play football at Florida State University in the fall.
As many locals know, the Taylor Haugen Foundation builds and recognizes youth leaders and promotes abdominal sports safety to honor the legacy of Taylor.