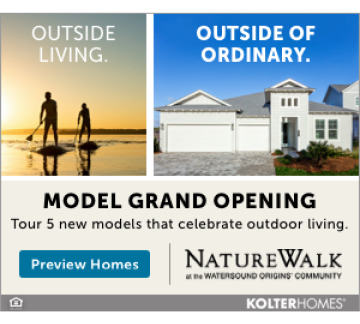 Santa's arrival to our area is a highlight of the season! Where can you find him Around Town?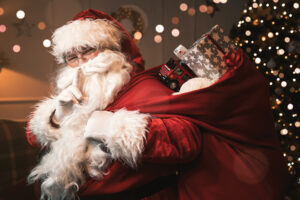 You can visit Santa at The Village of Baytowne Wharf at his sleigh Sat., Nov. 27 at his arrival and during the Tuba Christmas event on Sat., Dec. 11. If you miss those, you can still visit Wednesday nights Dec. 1-15 in the Village. Visit www.baytownewharf.com.
Visit Santa at Bass Pro Shop at Destin Commons from now through December 24. There's also free games, crafts, and a free 4×6 professional photo with Santa as well as a free digital download. To book, visit basspro.com.
Visit with Santa at HarborWalk Village beginning Sat., Nov. 27, where Santa and Mrs. Clause will be at the main stage. Kids can enjoy crafts, face painting, and a Rudolph-themed treasure hunt on Santa's arrival day. All of Santa's guests will receive a special treat and a FREE 4×6 photo. Visits with Santa will continue for the following three weekends until Dec. 19.
Holiday Happenings
Hosted by the City of DeFuniak Springs, from Nov. 26 – Dec. 31, Chipley Park lights up with the annual Christmas Reflection Displays and more than 10 million lights reflecting off the lake. Open Nov. 26 – Dec. 31. Friday-Saturday, 5:30–9:30 p.m.; Sunday-Thursday, 5:30-9 p.m. nightly. $5 per person, free for children under 5, Tuesday discount for military; $10 for carload up to five people. Carriage rides are available on select nights (Nov. 27 – Dec. 31), $10/person. (850) 978-2999.
The Festival of Trees at Grand Boulevard at Sandestin runs from Thanksgiving through Christmas Day. Participating non-profit organizations compete to win cash prizes totaling $7,000. Cast your vote for the People's Choice award. Grand Boulevard also is hosting photos with Elf On The Shelf in Grand Park at the Festival of Trees display every Saturday, Nov. 27 – Dec. 18 from 2-4 p.m.
Main Street DeFuniak Springs brings back Merry Main Street! Free to attend, Merry Main Street boasts live music and theatrical performances, an outdoor market, food trucks, rides on the Choctaw Express Train, visits with Santa and Mrs. Claus, kids character appearances by The Character Clubhouse, and more family fun – all taking place outdoors along Baldwin Ave. in downtown DeFuniak Springs. Beginning Saturday, Nov. 27, events occur every Friday and Saturday up to Christmas. https://bit.ly/MSD_MerryMain, Info@mainstreetdfs.org, (850) 296-9051.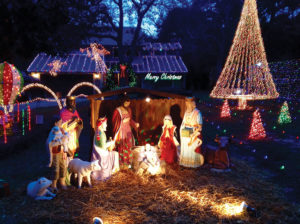 Yuletide décor, joyful Holiday music, and festive Christmas lights make up the 2021 Troon Goon Christmas Lightshow in Bluewater Bay. "Geek Lights" 2021-2022 show schedule: Mon., Nov. 29 each night – Jan. 6, 2022, Corner of Bluewater Blvd. and Antiqua Way in Bluewater Bay. Shows begin every 30 minutes starting at 6 p.m. with the last show starting at 9:30 p.m. Sunday-Thursday, and 10:30 p.m. on Fridays, Saturdays and holiday eves. Now in its 14th year, the free show consists of Christmas lights and other themed display elements, all under computer control and synchronized to music. 100% of donations to the collection box support Crisis Aid for Littles and Moms (CALM). The show is the technical and creative wizardry of Jeff Werner, the "Northwest Florida Geek" and Wendy Werner, his "spouse peripheral." FaceBook.com/GeekLightsOnTheCorner.
Dust off those skates and get in the winter spirit at The Village of Baytowne Wharf's Baytowne on Ice. Ice rink is open now – Feb. 2nd. Hours vary daily. Visit BaytowneWharf.com.
The Village of Baytowne Wharf at Sandestin hosts a special light show on Wednesday, Friday and Saturday nights from Dec. 1-22 during the 12 Nights of Lights where the tree lights in the events plaza will dance and blink to music at 6, 7 and 8 p.m. Visit BaytowneWharf.com.
Join J.Leon Gallery + Studio in Miramar Beach Friday, Dec. 3, 5-7 p.m., for the annual Holiday Shop, Sip, N' Stroll featuring J.Leon Gallery + Studio, McCaskill & Company and Mollega Eye Care & Optique. Shop local favorites, sip festive beverages, snacks and enjoy a boutique shopping experience with some surprises. Visit jleongallery.com or the Facebook event for more details or call (850) 842-3051.
The 2021 Niceville Valparaiso Christmas Parade is coming to town Sat., Dec. 4, at 10 a.m. The 2021 theme is "Serve to Change Lives." Sponsored each year by the Niceville Valparaiso Rotary Club, the annual Christmas Parade is made up of civic and youth groups, organizations, churches, businesses, and individuals take part in the festive procession. Watch the parade on John Sims Pkwy. and Partin Dr. along the route. The Eagle Pride Marching Band will be in the lead! Visit NicevilleValparaisoRotary.org or its Facebook Page to participate or for more info.
Emerald Coast Theatre Company presents Miracle on 34th Street: A Live Musical Radio Play on the mainstage from Dec. 9 – 19: Thurs. – Sat. at 7:30 p.m.; Sundays at 2:30 p.m.; Sun. Dec. 19 at 2:30 & 7:30 p.m. emeraldcoasttheatre.org.
Join Sinfonia's Holiday Pops Fri., Dec. 10, 7:30 p.m. at Village Church of Destin featuring singer/actor of the stage and screen Nicholas Rodriguez. From holiday classics to Broadway to the great American Songbook, this festive twist of music will put everyone in the holiday spirit. Tickets $29.50 – $55.00. sinfoniagulfcoast.org.
Eden Gardens State Park will be illuminated Sat., Dec. 11, 5-8 p.m. More than 2,000 luminaries will light the garden paths of Eden Gardens at nightfall. Music and carolers voices will fill the air throughout the evening and cookies and hot beverages will be provided by the Friends of Eden Gardens. The event is free and park entry fees will be waived from 5-8 p.m.
The Destin Harbor will be dancing with lights and cheer during the 35th Annual Destin Boat Parade Sun. Dec 12 from 6 – 6:30 p.m. followed by a Fireworks Finale and Fire Spinning!
Trivia is turning into a Winter Fun-derland at Trivia Night: Holiday Edition, Fri. Dec. 17, 6–8 p.m. at the Emerald Coast Science Center! The winning team of 6 will receive one $25 gift certificate to the center. Have a drink, come up with a ridiculous team name. Ages 21 & up only. $12 for nonmembers • $10 for members. (850) 664-1261.
LJ Schooners' 4th Annual Santa Paddle Parade is back Sat., Dec. 18 at Bluewater Bay Marina. If you can paddle it, bring it! Paddle on a stand-up paddle board, canoe, kayak, paddle boat or surf skis. A group photo will be taken at noon with paddle starting at 12:10 p.m. when the group of Santa Clauses leave BWB Marina and paddle East to Rocky Bayou Bridge, North to North Shore of Rocky Bayou and back to the Marina. Registration is $30 and includes your Sunny Santa Suit, which must be worn during the paddle. The first 75 to register are guaranteed Santa suits. Proceeds benefit Sharing and Caring of Niceville. To register, call Bluewater Bay Marina Ship Store at 850-897-2821or visit bluewaterbaymarina.com.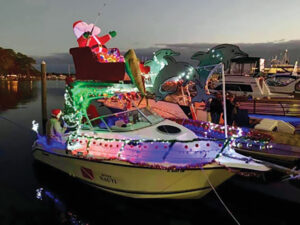 Bluewater Bay Marina will host its Annual Christmas Boat Parade on Sat., Dec. 18 at 5:30 p.m. (Skippers meeting at 4 p.m.; parade staging at 5 p.m.) The parade course exits Bluewater Bay Marina north to Nelson's Cove, around Rocky Bayou, south to the Rocky One marker and then returns to Bluewater Bay Marina. Boats must pre-register. After the Boat Parade, LJ Schooners Dockside Restaurant is hosting a Christmas Party with DJ Chris Saylor, 6-10 p.m. and an ugly sweater contest at 9 p.m. For more information, email: frontdesk@bwb-marina.com.
Sun., Dec. 19 at 5:30 p.m., the annual 2021 Niceville Valparaiso Rotary Club Christmas Boat Parade – presented by Emerald Coast Marine and staged at its onsite marina facilities – will feature not only a traditional display of fun onboard holiday-themed lights and decorations, but also the big Splashboards Media Boat with its 30' jumbo screen that will be docked and playing popular Christmas movie snippets and favorite tunes. Festivities also include meal specials at The Locals Waterfront Eatery, plus complimentary hot cocoa, a visit from Santa Claus and Mrs. Claus and the elves, provided by the Rotary. The parade route travels southwest from Emerald Coast Marine to Tom's Bayou, past Lincoln Park, then east toward Lions Park, returning back to Emerald Coast Marine. Boat entries are $30 each. All proceeds raised will benefit Sharing and Caring Niceville. Contact Rotary Parade Chair Brian Gwinnup at (850) 218-6381 or email nicevalrotary@yahoo.com. Information is also available at the Rotary website: www.nicevillevalparaisorotary.org.
Ring in 2022! Disco the night away at the rockin' New Year's Eve party at LJ Schooners! Diamond Dan DJ will be entertaining throughout the evening. Dinner specials will run from 5–10 p.m.
The Village of Baytowne Wharf will host Baytowne Countdown, Fri., Dec. 31 from 6 p.m.-1 a.m.—with two breathtaking fireworks displays at 8 p.m. & midnight. Enjoy a family-friendly evening from 6-8 p.m. with face painting, kids' activities, and LIVE music on the Baytowne LIVE stage. The first fireworks display happens at 8 p.m. Dance the night away with LIVE music from 7 p.m. until 1 a.m., featured on the Events Plaza Stage! End the night with a spectacular midnight fireworks show. *21 & over after 10 p.m. 20 & under must be accompanied by a legal guardian after 10 p.m.