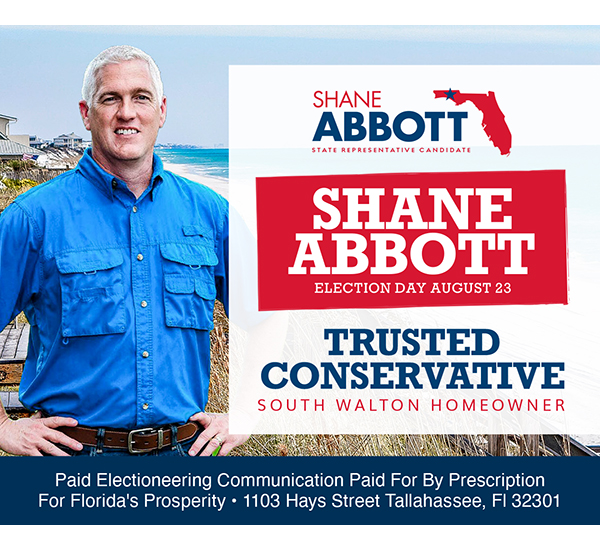 By Doug Stauffer
There were smiling faces and cheers everywhere when the Blue Blazer board members of the All Sports Association made their announcements at Niceville High School. The philanthropic association awarded several prestigious awards to three Niceville student-athletes and an assistant coach.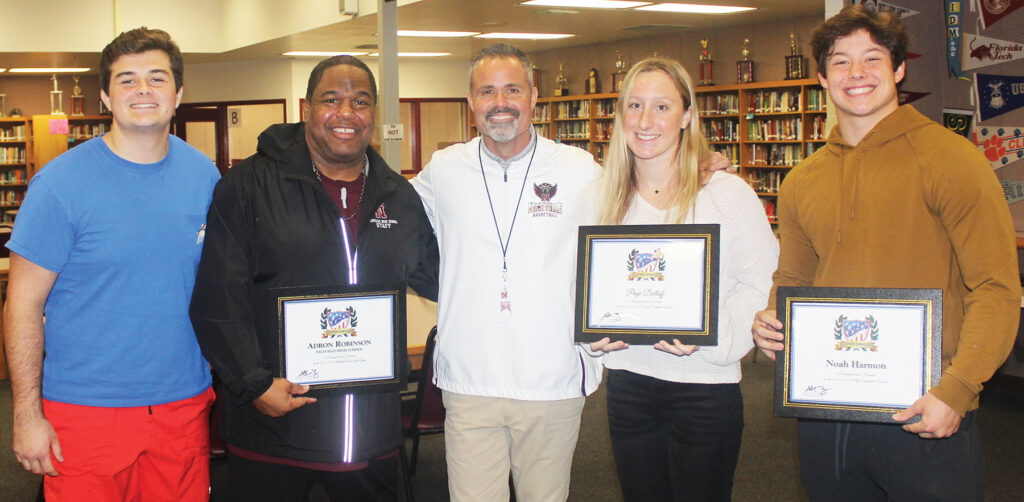 The Cornell-bound multi-sport athlete Noah Harman was awarded the Male Scholastic Award based on the merits of his 4.6 GPA and his contributions as captain of both the state championship track and field team and the football team. He also volunteers at the middle school and at his local church.
The Air Force Academy-bound Page Dolloff, another multi-sport athlete, was awarded the Female Scholastic Award. She earned the award based on the merits of her 4.74 GPA. She was the Daily News Female Swimmer of the Year and appeared in the final four for tennis. Page is also involved with several community and church volunteer programs.
The University of Florida-bound Senior Eric Trapp received the faith-based Taylor Haugen Foundation award. As he accepted the award, he quipped, "The Bible is my guidance in life." He serves as the SGA president, carries a 4.3 GPA and is involved in many volunteer programs through his church. The history of this award is both heartwarming and heartbreaking. (See Sept. 2019 Bay Life at MyBayLifeNWFL.com.)
Coach Adron Robinson was recognized as the Assistant Coach of the Year. He graduated from Niceville High School and returned to his alma mater contributing to the school in several capacities as a coach and mentor.
All Sports President Carter Zorn mentioned that award winners are chosen using blind résumés, ensuring zero bias in the outcomes. He further exclaimed, "We've never had this amount of awards in one place. So, we're really excited for the opportunity to present them to these amazing individuals." Congratulations Niceville High School!
The Taylor Haugen Foundation Trophy deserves further exploration: Nominees are considered based on the character traits of the trophy's namesake, Taylor Reid Haugen. "T" passed away on August, 30, 2008, of abdominal injuries suffered during a football game. The award represents this young man's legacy, whose two passions were "JESUS AND FOOTBALL." His motto was "Don't Quit, Never Give Up."
Eric Trapp received this honor based upon Taylor's similar balance of Academics, Athletics, Leadership, Community Service and Christian Faith.
Taylor Haugen left an indelible mark on the community through his short life by living his faith and showing compassion for his friends, team, community and church. The trophy is awarded in conjunction with the All Sports Association's annual banquet on Feb. 25, 2022, at the Destin/Ft. Walton Beach Convention Center from 5-10 p.m (www.allsportsassociation.org). Hall of Fame Atlanta Braves pitcher Tom Glavine will be this year's All Sports Association Keynote speaker. Through the efforts of the annual All-Sports banquet and summer golf tournament, and in addition to supporting our local high school athletic programs, the association helps fund numerous worthwhile sports organizations and charitable causes. The primary beneficiaries are the Boys & Girls Club of the Emerald Coast, Special Olympics Florida- Okaloosa, Eleanor J. Johnson Youth Center and Okaloosa Walton FCA.
The trophy—a hand-sculptured bronze eagle—stands more than two feet tall, weighing 35-pounds. The eagle is taking flight on a ribbon of air as appropriately inspired by the last two verses of Isaiah chapter 40.
"Even the youths shall faint and be weary, and the young men shall utterly fall: 31 But they that wait upon the LORD shall renew their strength; they shall mount up with wings as eagles; they shall run, and not be weary; and they shall walk, and not faint" (Isaiah 40:30-31).