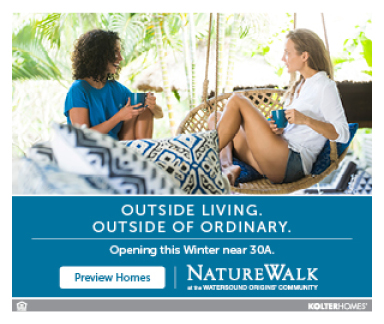 Now more than ever, residents along the Emerald Coast are seeking ways to enrich their lives. Our current Hometown Hero discovered that art can do so much for so many. As the Mattie Kelly Arts Foundation (MKAF) celebrates its 25th Anniversary this year, MKAF CEO Marcia Hull proves that her calling and passion for the arts has the power to enrich, help and heal many in the Destin community.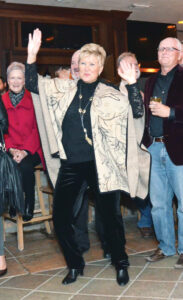 Marcia's love for the arts began at a very young, impressionable age. "I credit my parents for introducing me to the world of art as a child," said Hull. "After taking tap, ballet and piano lessons during my childhood, I remember in my teens going to New York City to see Carol Channing in Hello Dolly on the Broadway stage, Debbie Reynolds at Radio City Music Hall in the Unsinkable Molly Brown and the graceful ballerinas performing at the New York Lincoln Center. The seed was planted and my love of the arts grew."
After joining MKAF in December 1998, Marcia has been championing the arts for the Destin community ever since. With Deb Nissley at her side for the last 22 years, Marcia has worked with 168 community leaders, entrepreneurs and visionaries to support her cultural journey to cultivate and nurture a deep appreciation of the arts along the Emerald Coast.
Bringing acclaimed master artists to share their craft and love of the arts with the Destin community for more two decades, Marcia has been a champion for bringing art to local students. One of the most memorable residencies was a four-day artist residency with the late George Rodrigue, international Blue Dog artist from New Orleans, Louisiana and his wife, Wendy, who inspired over 4,500 local students with a live painting demonstration.
"I am a strong advocate of keeping the arts alive in the classrooms and providing art curriculum and cultural interactive experience to underserved populations," said Marcia.
"MKAF's outreach initiatives not only build self-esteem, but also increase academic scoring, improve behavior, and offer therapeutic benefits to those populations who lack access to the arts."
Five years ago, MKAF brought in Melanie Moore, a dedicated arts education specialist to expand the community outreach program. Using art for healing, Melanie and Marcia brought "Dwayne Zotz – Making Your Mark" to Destin for a one-week artist residency. Through a grant from the National Endowment of the Arts and Rockefeller Foundation, MKAF hosted Dwayne, the inventor of the first-ever painting wheelchair, to present Zotz Artz – Arts for All. The highly-specialized interactive art program designed for people with disabilities made a big impact on the students of the Emerald Coast Autism Center, including profoundly impacting one six-year old boy with Autism who participated in painting on the group mural.
"At the end of the 3-hour program, he looked up at his therapist and me and exclaimed, 'This is the BEST day EVER!," shared Marcia. "We've learned creative expression can help individuals with disabilities excel and achieve more if given the opportunity."
Leading the effort to raise funds and open the MKAF Cultural Arts Village in 2013, Marcia helped create a permanent location to host MKAF annual events, including Concerts in the Village and the Festival of Arts. While the 2020 Concerts in the Village series was initially postponed this year due to COVID-19, Marcia and the MKAF board worked diligently to put together a safe recovery plan that would keep participants and staff safe while using the power of live musical performances to provide healing therapy to our community.
"I believe this is God's purpose for me," said Marcia. "My role with MKAF ties in with my faith. Mattie Kelly was a woman of faith and leading MKAF has allowed me to embrace my passion and purpose. We end each year with one of my favorite annual events, Sounds of the Season. Celebrating the joy of the holidays through live music and artistic expression is one of the best gifts I could ever give and receive."
Learn more about MKAF's mission and art programs and events planning for 2020 at MKAF.org.