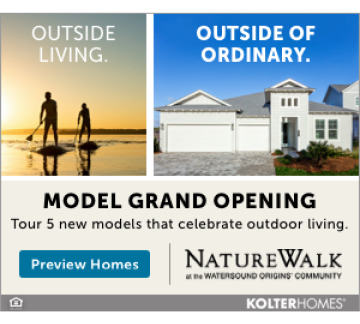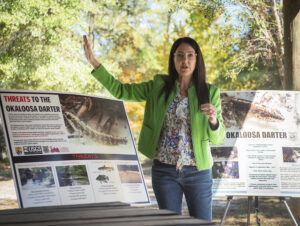 The U.S. Fish and Wildlife Service recently announced the proposed delisting of the Okaloosa darter from the threatened and endangered list under the Endangered Species Act. The population is being managed so well, the small fish is making major strides in its fight for recovery, according to the USFWS. "I'm very excited to be here celebrating this triumphant moment for the darter and everyone who's been working for so long (to rescue the fish)," said Shannon Estenoz, Assistant Secretary of the Department of Interior for Fish, Wildlife and Parks.
Originally listed as endangered in 1973, the Okaloosa darter is roughly a two-inch, perch-like fish known to occur only in six clear stream systems draining into two Choctawhatchee Bay bayous in Walton and Okaloosa counties in northwest Florida. In 1973, less than 1,500 individual darters remained.
Approximately 99 percent of this watershed drainage area is under Eglin's management as is most of the darter's present range. The remainder of the watershed and the species' range lies within the Niceville and Valparaiso urban areas.
The Okaloosa darter has significantly grown in population and is now being considered for delisting as a threatened and endangered species under the Endangered Species Act. The Eglin Air Force Base range area makes up 99% of the fish's natural habitat.
Working in partnership, the Service and the base accomplished a significant number of recovery efforts for the darter. Eglin's natural resource managers estimate as of 2021, the darter's population skyrocketed to more than 600,000, earning the right to be considered de-listed by USFWS. "Effecting positive change for a species to the point where reclassification is justified is a monumental task taking years of hard work and dedication from many professionals across multiple organizations. I am proud to have been a part of this accomplishment," said Bruce Hagedorn, Eglin Natural Resources chief.
According to Col. Joseph Augustine, 96 Test Wing vice commander, the tiny fish's impact to northwest Florida's ecosystem is huge. "The Okaloosa darter may be small in stature, but it has an outsized impact on our local environment. Its complete endangerment would have resulted in a lasting impact in the balance of our creeks and streams on Eglin reservation and the surrounding areas we call home," said Augustine.
The process of delisting a species can take anywhere from six to nine months, according to the USFWS.