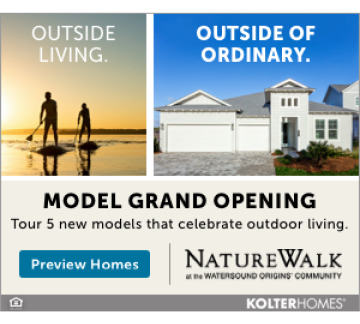 By Cali Hlavac, To Do in Destin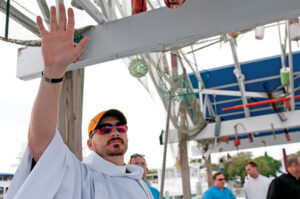 As one of our area's long-standing traditions, the Blessing of the Fleet brought out locals and tourists for a ceremony unlike any other on the Destin Harbor. It has become one that many locals and visitors look forward to attending this time of year, as we kick off our summer season.
The Blessing of the Fleet is an annual tradition honoring the men and women who utilize the resources of the sea as a means of survival. As a centuries-old ritual, these types of fleet blessings are common in ports in other countries.
Fleet blessings worldwide have long been established as a time of prayer and faith—a tradition where locals and churches come together to pray over each fleet vessel, the captains and crew members, and their families for safe passages, bountiful catches and prosperity.
Locally, on Ascension Day each year, local pastors gather behind Brotula's on the Harbor to bless commercial charter fishing boats, boat captains, crews and passengers for a safe and bountiful busy season. Many captains attribute the success of their season not to luck, but to these blessings—a tradition that has held for many years, even as Destin evolved from a small fishing community to the World's Luckiest Little Fishing Village it is today. The fleet has continued to grow and now the Destin Harbor is recognized as home to the largest fishing fleet, perhaps, in the country.
The Blessing of the Fleet began in May 1957 with about 20 boats and has since grown to some years over 150 boats. Numbers like this make it the largest Blessing of the Fleet in the country. Commercial boats line up in a parade like fashion and take turns stopping in front of the barge where Destin's pastors call them up by name to be blessed and prayed over. Any boat or captain that makes their living on the water can participate, and is welcomed. Here we are reminded of the significant role fishermen and their families, both past and present, have played in building and strengthening our communities.
Over the years, it's easy to see how the fleet has been prosperous and protected. It seems God continues to watch over and bless the fishermen who make their living on Destin's Harbor.
Ascension Day this year fell on May 13, 2021, and the "blessings" began at 4 p.m. on the docks behind Brotula's Restaurant with a Captains' Worship and Prayer Service. Following the service, local clergy proceeded to the dock to bless those vessels which had pre-registered.
A community fish fry followed the Blessing around 5:30 p.m. at Brotulas. The public and the local sponsors make the Blessing of the Fleet possible, including Aerial Seafood and Brotula's Seafood House and Steamer.
All commercial fishing, safety and recreational vessels that make their living on the sea can participate each year.
"Men of God who led the church many years ago began to believe for peoples' fishing catches and for boats to be blessed. God's people came together to believe for something great, and in faith, for blessings. Today, for many captains in Destin's fishing fleet, their success doesn't ride on luck—it rides on prayer." -Pastor John Mark Skiles