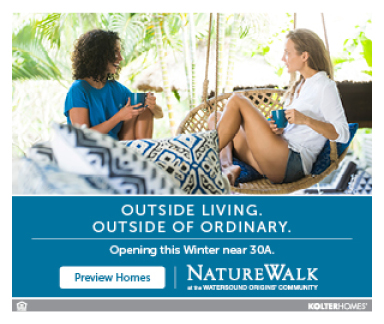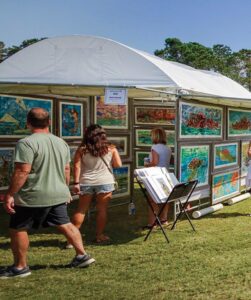 The 25th Annual Mattie Kelly Arts Foundation (MKAF) Festival of the Arts saw more than 2,000 art lovers in October and featured 65 premier artists from throughout the U.S.
Winning Best in Show was artist Kelly Rysavy from Tallahassee with her Renaissance-inspired art pieces; she won $1600. Rysavy, a first-time festival exhibitor, layers rich earthy colors and a delicate play of light against form to create a velvety texture that breathes life into the canvas.
The Best in Show Adult winner of the Collaborative Art Exhibit was awarded to William Osnabrugge and the Best in Show Student winner was Veronika Jacobson from Fort Walton Beach High School. The Collaborative Art Exhibit features adults and students competing for the Special McIlroy Awards in honor of the late Patricia McIlroy, Destin's First Lady, and an MKAF advocate and patron.
Award of Excellence Winners ($800) were Juli Juneau, George Bragg and Dorothy Starbuck.
Award of Merit Winners ($400) were Jason Stoddard, Patrick Reynolds, Ricky Steele, Karron Troil and Nick Cantrell.
Judge's Recognition Award Winners ($200) were Kelly Pierre, Kelly Nichole Gardner, Daryl Harwood, Royal Miree, Jenny Wang, Jeff Waldorff, Melanie Blackerby, Evie Davis, Michael Fagan and Herb Brown.
The People's Choice Award ($800) was Jeff Waldorff. The Poster Art Contest Winner ($500) was Estelle Grengs.
Collaborative Exhibit Winners were:
Best in Show ($250) William Osnabrugge – Oil on Panel; Adult 1st Place ($100) Autumn Johnson – Large Mouth Bass; Adult 2nd Place ($75) Melanie Moore – Coastal Dreamscape; Adult 3rd Place ($50) John Groah – Sailboat Marsh; Best in Show – Student ($200) Veronika Jacobson – Mysterious Cat – FWBHS; Student 1st Place ($100) Erin Bauduin – Erosion- FWBHS; Student 2nd Place ($75) Connor Cross – Tangled- SWHS; and Student 3rd Place ($50) Francine Caballa – Movement- FWBHS
Event proceeds help to fund MKAF's cultural season of events and community outreach programs that serve populations of K-12 students and families, including children and adults with special needs, at-risk youth, and a wounded warrior initiative for our returning combat veterans suffering from post-traumatic stress disorder.
For more information on how you can become a member of MKAF or provide a donation, please call (850) 650-2226 or visit mkaf.org. For a full list of upcoming MKAF events, follow MKAF on Facebook.