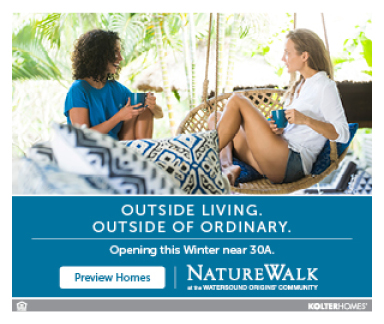 By Lori Smith
How do you get to be one of Bank of England Mortgage's Top 5 loan officers in the Southeast? "By solving puzzles, which I love," says Jamie McIntosh. "Mortgage lending can definitely be like solving puzzles; it involves a client's finances with a goal of getting them to home ownership and making it as inexpensive as possible, both to close as well as the get monthly payments acceptable after closing," he says. "I really enjoy taking a problem and finding a solution to get the job done."
When Jamie began at Bank of England Mortgage, he had more than 18 years in the financial services industry (since 2002), and in Northwest Florida since 2004. In 2015, he was offered the opportunity to open a Birmingham-based loan production office and market development for expansion into Northwest Florida. This was the door which allowed him to enter the mortgage lending aspect where he continued to develop the area's retail banking as well as commercial and consumer lending. He has a successful track record of developing high performing, customer focused teams. Jamie was the top producing loan officer in 2018 and 2019 in his office.
Jamie says he is driven by his clients' emotions, appreciation and excitement and will go the extra mile to help get them into a home. "People can show appreciation for a lot of things, but the appreciation I've seen from someone at their first home closing is hard to put into words – it motivates me to continue to try to be the best lender around." Jamie also makes himself available to many who work hours outside the norm or have other situations. "The idea of 'banker's hours' do not apply to me. Realtors and clients have questions on nights and weekends, so I make myself available when they need me."
Whether a first time homebuyer or someone purchasing another investment property on 30-A, Jamie also wants to help folks who might not be ready to immediately purchase a home, but are willing to put in the work to get in a position to purchase in the future. He's built a reputation on helping those who want to purchase a home, getting them to where they need to be to do so. And as a result, Jamie says he's also been blessed with repeat business from clients as well as receiving numerous referrals. "It's flattering to know the positive experience of buying a home with me from years ago leaves a lasting impression."
Getting to know Jamie is easy: he moved to our beautiful area from South Carolina in 2004 after helping his brother and sister-in-law move into their new home. He visited many times, fell in love and decided this was the place he wanted to call home. He became ingrained in the community immediately, meeting business professionals and new friends, and becoming a community leader as a past president of South Walton Rotary, past president of the Young Professionals at the Beach, and past board member of the Walton Area Chamber of Commerce. You might run into Jamie where, in his spare time, he likes to hike, play tennis, bike or spend time at the beach.
"The home buying process can be scary," says Jamie. "I want to keep my clients informed of the process and update them every step of the way to make buying a new home as easy as possible!"
You can reach Jamie at (850) 974-8887 or jmcintosh@boemortgage.com. Or stop by his office at 348 SW Miracle Strip Parkway, Suite 39 in Fort Walton Beach. For more mortgage and home buying tips, visit the blog at boemortgage.com/blog.