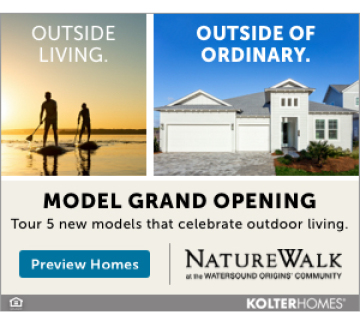 By Lisa Turpin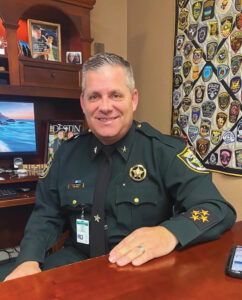 There's a new sheriff in town! On January 5th, newly elected Sheriff Eric Aden was sworn into office. Sheriff Aden is a true Okaloosa County native—born at Eglin Airforce Base, is a 1990 graduate of Choctaw High School and a Northwest Florida State College alumni. He says he feels blessed to step into this life-long aspired role for the county he holds so dear to his heart. "We are in God's paradise; I'm never leaving." When asked what led him to the desire to become the Sheriff of Okaloosa County, he said, "This is a dream I've had since 8th grade when I went to the school dance with the sheriff's daughter." He was 13 and nervously confessed to his dad he wasn't sure about going to the dance with the sheriff's daughter. But his dad told him, "You're definitely going; that's the sheriff's daughter!" Sheriff Aden describes his desire to be sheriff as a respectful fascination along with admiration of his young date's father stepping out of his big SUV with his Stetson hat on and the awe he felt. "I want to be sheriff one day just like him," he said. Aden's favorite TV program was the Andy Griffith Show—and still is—due to the moral lessons and non-violent problem-solving tactics Sheriff Andy would use. Both played into his dream of being Sheriff—but how he became so "blessed," as he calls it, is divine intervention.
Becoming your hometown sheriff is remarkably fortunate. He ran in an uncontested election, which is a 1st in the history of Okaloosa County, and which Sheriff Aden attributes to God's hand and timing. He makes no quandary about his faith and knows he is exactly where he's supposed to be in God's timing. His faith plays a big role in who he is and his goals for the safety and protection of the people and visitors of Okaloosa County.
When asked how he planned on keeping the trust of the people, Sheriff Aden says, "At the end of the day, what's important to the people of Okaloosa is: How are you going to keep us safe? How are you going to protect us?" Sheriff Aden promises this is his number one focus. He will continue the intuitive policies implemented by his predecessor, Sheriff Larry Ashley, whom he says was "the epitome of a good leader." Sheriff Aden says he will "not tolerate blurred lines," when it comes to good over evil, meaning Okaloosa County's law enforcement will draw a hard line in the sand and evil will not be tolerated.
Sheriff Aden's qualifications begin with attending FSU, the nation's #1 Criminology Program where he "planned to go off and be a cop." Wanting to further his education, he entered the Law Enforcement Academy at Northwest Florida State College in 1994 and shortly after also became a school resource officer, which he claims was his most rewarding job thus far. He took a break from law enforcement for a while to help his brother develop a mortgage company which proved to be a "priceless" experience for understanding budgeting and "how to treat people."
But Sheriff Aden's heart kept pulling at him and, fortunately for us, he was recruited back to law enforcement by Walton County Sheriff Mike Atkinson. There he held the positions of Sergeant, then Lieutenant, until Okaloosa County's Sheriff Ashley needed to fill an open position, and Eric Aden's name came up for the job. Sheriff Aden says he was elated to go "home," even though he was only in the next county and loved working for Sheriff Atkinson. He says the two can now work together for the greater good of the entire area.
Sheriff Aden worked in CID handling heavy crimes and homicides, as patrol commander, and captain of operations. Then an opportunity opened and he was accepted into the FBI Academy, which he says was "a God thing" due to timing and the difficulty of acceptance and availability. Since beginning his career in law enforcement, he has worked, mentored, supervised and managed personnel and resources in every facet of law enforcement. In 2019 he was humbly honored to be approached by Sheriff Ashley and Under-Sheriff Don Adams to run for sheriff.
Sheriff Aden plans to build on what Sheriff Ashley implemented; to improve transparency, use of body worn cameras at all times and internal communication with employees. He also plans to develop a Civilian Merit Board of community liaisons such as pastors, business owners and positive influencers—"a panel for quality. We are in a bubble here and fortunate to have a supportive community," he says. "I feel so blessed (not dealing with riots, etc.)"
Sheriff Aden engrains himself in the community he loves. Among a long list of accomplishments, professional memberships and several boards, he serves on the Northwest Florida State College Foundation Board (past four years) while still devoting attention to our children's safety. He is responsible for the safety and well-being of nearly 220,000 residents and nearly 2 million annual visitors. He oversees over 450 employees and manages an annual budget of $50,000,000.
To learn more about Sheriff Aden, you can visit the Okaloosa County Sheriff's Department website at sheriff-okaloosa.org.