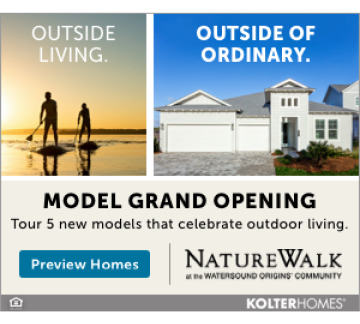 By Lori Leath Smith
"We are thrilled when we have clients come in and tell us how inspired they are when browsing the gallery. That's a large part of what we want to give back to the community."
~ Share Norville, Artful Things Niceville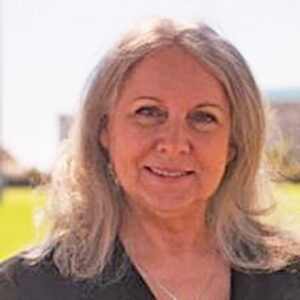 Artful Things Niceville is as warm and inviting as its owner, Share Norville, where local authors adorn the shelves, fine art and local artist commissioned pieces are displayed, art supplies, pottery and custom framing is available and you can express yourself in your own art. In fact, Share encourages all to do so. "It's a time for art appreciation, a time to be inspired and also to feel you are a part of our gallery family."
Influenced at an early age by the rather Bohemian feel of South Walton County where Share lived in the early '80s, her attraction is to many different types of arts— paint, paint brushes, music, a plethora of mediums, gardening, tai chi, teaching, giving, sharing and ultimately seeing the smiles of others, as they find joy from playing with the arts. "I played for years with Chinese movement arts, had a greenhouse and an art room in my home in Birmingham, where I worked for several years in administration and finance in the corporate world." Her first love, music, took her there where she played with different artists over the years. But, after growing up in Ft. Walton Beach and later Destin, then traveling Hwy. 30A, "I kept telling myself I would come back to our beautiful emerald waters." And she did when Family matters dictated her return in 2016.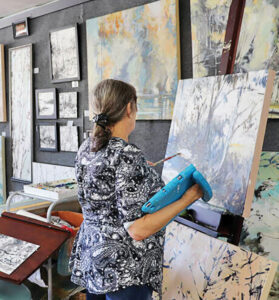 Share wasted no time planting herself in the Niceville community, and was drawn to Artful Things Niceville. "My mother wrote poetry and sang; my father also enjoyed singing and both brothers had a love for art—one worked in oils and the other charcoal."
Finally, able to live out her own creative passion, she became an Artful Things Niceville artist creating pieces for the gallery. Share's specialty — recycled art. Never one to follow the norm, when younger, she played with string art and "created" from things she had on hand. "This, over many years, morphed into "whimsical reworks" where I would take items like jewelry boxes, lamps, picture frames, etc., that were bound for the trash and rework them into functional art with an upbeat style," says Share.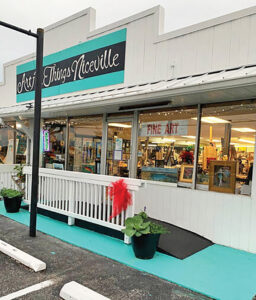 In 2019, Share purchased the gallery and is now carrying on the vision of former owners, sisters Candice and Carole Atkinson. "There was the perfect opportunity, because I was participating in this gallery," she said.
Fast forward two years and the gallery is celebrating its success with a special all-day sale, Thursday, November 11, and a reception from 5-7 p.m. with door prizes, live music, refreshments and an opportunity to meet many of the 51 participating artisans of the gallery, six who recently received an honorable mention in the Okaloosa Public Arts Show. "I am hoping everyone will consider coming for the fun, amazing artworks, great books and unique gifts that are available locally by local artisans," says Share. "The intent behind Artful Things Niceville is to support local artisans, encourage and inspire young and old alike, beginner to experienced, and bring a bit of fun to our community," she adds.
There's something for everyone who wants to bring out their inner artist: a variety of workshops such as calligraphy, encaustic wax, watercolor, air dry clay, techniques in oil, linocut- stamps and book writing; ongoing classes in oil, acrylics, basic drawing and basic anime; a beginning homeschool art curriculum; kid-focused workshops, birthday parties, open-air art days and camps, too!
Name brand art supplies include Golden, Windsor-Newton, Grumbacher, Prisma, Speedball, Ampersand, Canson, Arches, Strathmore, Copic, Pinata and even custom orders. And the Gallery discounts art supplies for local art students.
Art instructor M.J. Montgomery stands ready to take your special custom framing order. "We recently had the honor of framing 14 separate certificates of completion for a local karate student," says Share. "Often clients bring us their precious memories for specially designed framing and we have special framing deals for businesses."
In-house studio artists, Charlotte Arnold, Carol Ann Cain and Joan M. Langham, as well as Chris McLoone, photography, social media and instructor, and newest member, Ren Colbert, are available to answer questions and share their knowledge in the use of specific mediums and products.
"Keep an eye on our social media pages, watch for our listings here in Bay Life and come play, be inspired and take home a beautiful local work of art!" says Share.
1087 John Sims Pkwy. E., Niceville | (850) 729-2600 | Artfulthingsniceville.com
Tuesday – Friday 10 a.m. – 5 p.m. | Saturday 10 a.m. – 3 p.m.