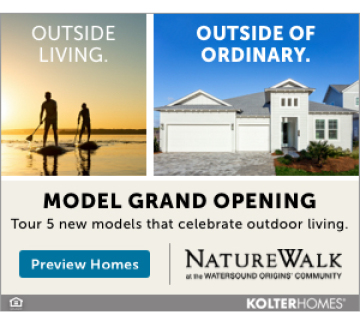 Brothers Kitchen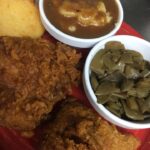 Brothers Kitchen is a casual, Southern-style restaurant, a place where you can get all your comfort food favorites. Blue Plate Specials are featured each day—meaning you choose one meat and two vegetable options from the daily list. Other delicious options include fresh salads, smoked chicken breast sandwich and the famous Boss Burger. Nightly specials vary each evening, but can include sirloin steak, shrimp & grits and some pasta dishes. Come on by and "taste" for yourself! Or pre-order for the weekend 24 hours in advance: Smoked whole pork butt, full or half racks, barbecue smoked meatloaf, smoked wings all slow-smoked on the Big Green Egg. And don't forget the sides! For Christmas, Brothers Kitchen is offering special options for Pre-Order Pickup.
Call 850-842-2687 to place your order!
All the Time: Dine In | Curbside
Pickup | Delivery | Outside Dining
Open Tue.-Sun., 11 a.m. – 9 p.m., Closed Mon.
(850) 842-2687
4538 E. Hwy. 20, Niceville
Facebook @LoveBrothersKitchen
Jojo's Coffee and Goodness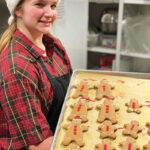 JoJo's is owned and operated by Angela "JoJo" Stevenson who wanted to incorporate a cafe and relaxed coffee shop atmosphere to accompany her attached teaching studio. Her dream team bakes fresh "goodness" daily—breakfast and lunch—Tuesday-Saturday. Feel free to come work (free WiFi) or meet up with friends or family.
Bakery Report for December includes fresh goodness specialties such as Scones: Ham and Cheddar, Cinnamon Cream and Mixed Berry; Pumpkin Coffee Cake; Banana Bread; Pound Cake; Hummingbird Muffins; Espresso Brownies and Caramelitas; and breakfast specials such as quiche (spicy sausage, ham, roasted red pepper or keto) with hash brown casserole and best coffee ever! Order ahead and pick up some for Christmas or New Year's breakfast or to accompany your Holiday offerings!
Jojo says there are very few tickets available for the Dec. 19th where your kids can come to "Santa's workshop." They will make two ornaments, paint a cookie and make a card for someone special as well as get some individual time with Santa.
Hours 7:30 a.m. – 2 p.m. Tuesday – Saturday
(850) 737-6194
4652 Hwy. 20 East, Niceville
bigorangehousedesigns.com
House of Thai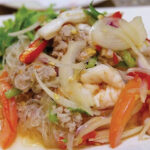 With 20 years of experience cooking traditional Thai food here and in Thailand, House of Thai is a veteran- and family-owned restaurant that focuses on food that is eaten every day in homes all over Thailand. Traditional recipes handed down from generations of Thai family chefs date back 400 years. Ingredients from local farmers markets are used to ensure freshness. The menu has just the right amount of offerings, and the food is fresh and seasoned to your preference, served in just the right portion sizes to share with another or to enjoy at home later. It's also allergy friendly with no added MSG and non-dairy.
Garlic lovers will love the Garlic Pork on the Specials menu. When they say garlic, they're quite serious. And there's fun, tasty features such as Ginger Shrimp Glass Noodles (Goong Ob Won Sen), Pineapple Fried Rice or Stir-Fried Glass Noodles (Pad Woon Sen) all $15.95. All perfect for a special, holiday meal with variety!
Dine-in | Pick-up | To-Go
Open Mon – Sat: 11 a.m. – 9 p.m.
(850) 353-2971
4542 E Highway 20, Niceville 32578
hhouseofthaifl.com
L.J. Schooners Dockside Restaurant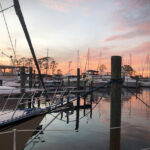 Welcome to L.J. Schooners Dockside Restaurant located at the spectacular Bluewater Bay Marina Complex. The restaurant is named after "L.J. Schooner" (the L.J. is for Lazy Jack) who was a cherished four-legged icon on Bluewater Bay Marina docks. The Oyster Bar area is open as well as the restaurant side while abiding by the 50% occupancy! Almost all seats offer a magnificent view of the water and unparalleled sunset with, of course, oysters and a delicious varied menu. Join L.J. Schooners for Sunday Brunch, 9 a.m. – 1 p.m. and enjoy bottomless Mimosas for $10! Adults $13.95; Children 7-12 $4.50; Children under age 6 free. Call to order take-out and pick-up in the L.J. Schooner's Oyster Bar or call when you arrive for curbside pick-up.
And for New Year's, join L.J. Schooner's in ushering out 2020 and welcoming 2021 with a GLOW. Entertainment will be provided from Diamond Dan from 9 p.m. – 1 a.m. Special dining beginning at 5 p.m. includes Surf 'n Turf: Crab Cake, Filet Mignon topped with Hollandaise, Roasted Potatoes and Veggies—$36.95. Comes with complimentary glass of champagne. Regular menu also available. Reservations recommended.
Dine-in | Pick-up | To-Go
Open Wed.–Sun., 11 a.m.–8 p.m.
(850) 897-6400
290 Yacht Club Dr., Unit 200, Niceville 32578
bluewaterbaymarina.com/schooners