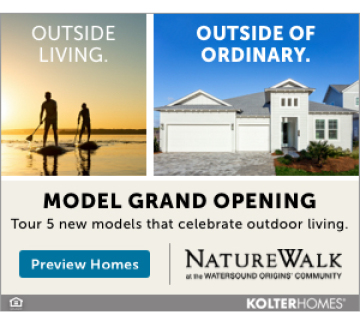 By Lori Leath Smith
Meet local real estate broker John Kirk Gaskin. He opened his business Briar Patch Realty in 2017 because he wanted to help folks navigate buying or selling their property with simplicity. "We know real estate can be complicated, and that many people dread buying property. So, we make the process easy where you'll be able to move into your new space without unnecessary stress."
With a BS in General Business Administration and Management and an emphasis in Marketing from The University of Southern Mississippi, Kirk utilizes his customer service, retail, sales, management, and business development skills and experience to offer people real help in achieving a housing goal, whether it be new construction, relocation, downsizing, owning a luxury home or other desires.
One goal which Kirk is most proud of is getting heroes into homes through the nation's largest hero savings program, Homes for Heroes. The Homes for Heroes' mission is to provide extraordinary savings to our local heroes who provide extraordinary services to our nation and our community every day. Heroes include firefighters, EMS, law enforcement, military (active, reserves and veterans), healthcare professionals and teachers. "Helping Heroes save money when they buy and/or sell their homes has aways been our passion," says Kirk.
Inspired by the tragic events of 9/11 and now available locally, Homes for Heroes was started in Minneapolis at the beginning of 2002. In 2009 it grew to become a national organization that has since helped more than 27,000 heroes nationally and given back over $43,000,000.
Kirk (Briar Patch Realty) has become one of the affiliate real estate and mortgage specialists in our local area, part of the group of specialists throughout the country. These local and national businesses are committed to providing Hero Rewards® savings, which are easy ways for heroes to save significant money on a new home. When working with Homes for Heroes real estate and mortgage specialists specifically, heroes are able to receive significant savings when they buy, sell or refinance a home. "If someone is a qualifying hero and they are either buying or selling a home," says Kirk, "then they simply have to use a Homes for Heroes® Real Estate Specialist to get the Hero Rewards."
Kirk says last year's average Heroes savings/rewards was about $1,700—the larger the purchase price the larger the hero savings can be. "Hero Rewards is our way to say "Thank You," says Kirk. "We're committed to giving back, serving and saying thank you to our local community heroes, because they do so much to make our great community what it is today. They tirelessly serve and sacrifice for us. So, we feel it's the right thing to do, and we're excited to be able to give back and say thank you," says Kirk.
"Our goal for 2021 is to help over 100 Heroes save even more money when they buy and/or sell homes." Kirk says they have updated resources on their website that can be used before your first consultation. For example, peruse the blog posts to learn something about the real estate market, or use the user-friendly search to look at the houses we represent. You'll also be able to find a general estimate for how much your current property is worth.
Briar Patch Realty specializes in Destin, Fort Walton Beach, Niceville, Crestview, and Freeport. To contact Kirk or learn more about Homes for Heroes, call 850-306-3600 or visit briarpatchrealty.com.