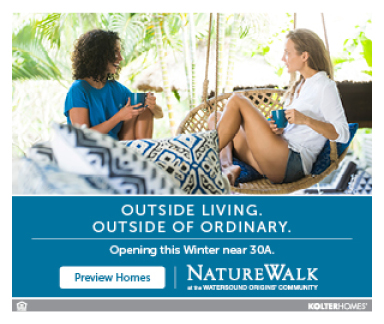 Jolly Jubilee 2020
Now through Dec. 20
Join Destin Commons for a series of holiday happenings now through Christmas. With the 50' Christmas tree as a backdrop, Destin Commons creates the premier holiday atmosphere with 10 large reindeer topiary shrubs, multiple Christmas trees, Christmas carolers, and live performances!  Check Facebook for dates and times.
"Geek Lights" 2020-2021 Show Schedule
Now – Jan. 6, 2021, Corner of Bluewater Blvd. and Antiqua Way in Bluewater Bay. Shows begin every 30 minutes starting at 6 p.m. with the last show starting at 9:30 p.m. Sunday-Thursday, and 10:30 p.m. on Fridays, Saturdays and holiday eves. Get up-to-the-minute schedule information at FaceBook.com/GeekLightsOnTheCorner. Now in its 13th year, the free show consists of Christmas lights and other themed display elements, all under computer control and synchronized to music. A collection box will be located in the viewing area. 100% of donations will support Crisis Aid for Littles and Moms (CALM). The show is the technical and creative wizardry of Jeff Werner, the "Northwest Florida Geek" and Wendy Werner, his "spouse peripheral."
Small Pottery Angel or Tree
Dec. 1 and Dec. 8, 6 – 8 p.m., $47.70
Create a beautiful piece of pottery with Laurel in these two sessions! You can choose to make an angel or a small tree. Build the piece on the 1st, come back and glaze it on the 8th!
Freeport Christmas Parade!
Saturday, Dec. 5, 4 p.m.
The annual Freeport Christmas parade will be held on Dec. 5 at 4:40 p.m. The parade will start at Freeport Elementary School, continue down Business Hwy. 331, then to Blueberry Road. After the parade there will be a tree lighting at 6 p.m. in front of city hall. Rain date is Dec. 12.
Niceville/Valparaiso Christmas Boat Parade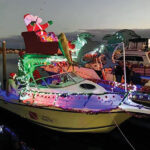 Sat., Dec 5, 6 p.m., Boggy Bayou
Emerald Coast Marine and the Rotary Club of Niceville/Valparaiso will host the Niceville/Valparaiso Christmas Boat Parade! The skippers meeting will occur at 5 p.m. Registration is $30 and all proceeds support holiday meals for local families. The parade route will last about an hour with an award ceremony at approximately 7:30 p.m. Registration is $30. To register, visit donorbox.org/niceville-valparaiso-christmas-boat-parade-2. For more information, nicevillevalparaisorotary.org/.
Hammock Bay Holiday Farmers Market
Sunday, Dec. 6, 8 a.m. – 1 p.m.
There will be a little bit of everything including awesome gifts! Meat and produce vendors, local arts and crafts, jewelry, clothing, health products, coffee, candles, soaps, food trucks, live music and more!
First Baptist Church of Freeport Christmas Store
The First Baptist Church of Freeport is hosting a Christmas Store for families in need to "shop" for Christmas gifts for their children. Last year 106 children in the Freeport area were provided Christmas with the help of Freeport High School students, Windswept Dunes Golf Club, Sweet Southern Comfort Great Food and Catering and several other community members. Monetary and new toy donations will be accepted until December 11. Contact Lisbeth Jackson at (850) 685-8418, Anne Turner at (850) 685-2196 or the First Baptist Church to donate.
PrimeLending 4th Annual Charity Cornhole Tournament
Fri., Dec 11, 1 p.m. – 5 p.m., 1 p.m. Tournament Start, $50 for 2 Person Team.
Join PrimeLending for its 4th Annual Charity Cornhole Tournament benefiting Niceville Strong. Flex your cornhole skills and give back to our community! Food provided by Jim N' Nicks BBQ Niceville & drinks provided by PrimeLending. Prizes will be awarded for 1st, 2nd & 3rd place. Extras: Long Toss game ($10 for 3 bean bags tosses), 50/50 Raffle. For more information, contact Erica Nelson at 850-678-5229 or erica.nelson@primelending.com. PrimeLending Niceville is located at 1054 John Sims Pkwy. E., Niceville 32578.
Live Nativity at Valparaiso First Assembly of God
Dec. 11-13, 6:30 – 8:30 p.m., Free
Experience a hayride through a live action telling of the Christmas Story! Bring the whole family for free hot chocolate and Christmas cookies as you sit back and watch the very first Christmas unfold throughout your ride. Then visit the craft tent for kids or pet the bunnies!
571 Valparaiso Pkwy, Valparaiso, 32580. For more information, call 850-678-4030.
Yule of Yesteryear
Dec. 12, 10 a.m. – 4 p.m., Perrine Park
Join the Heritage Museum of Northwest Florida for food, crafts and fun. Dozens of vendors line the sidewalks with creative and unique hand-made holiday gifts for everyone. Fur babies are welcome, too. Register at heritage-museum.org.
Pictures with Santa
Sat. Dec 12, 1 – 3 p.m., 201 Redwood Ave., Niceville
Have your little one's picture made with Santa Karl at VenYou201. They'll provide the indoor backdrop, and possibly a snack, for free. You provide the camera and the child. Donations accepted. All proceeds support Crisis Aid for Littles and Moms (CALM) Org, a 501c3 nonprofit offering housing and life skills to single moms in crisis with their children. For more information, visit http://venyou201.com or email venyou201@gmail.com.
Niceville Valparaiso 2020 Community Christmas Parade
Sponsored by the Niceville Valparaiso Rotary Club, the Niceville Valparaiso Christmas Parade will be held Sat., Dec. 12 at 10 a.m. This year's theme is "Timeless Traditions."
The annual parade is made up of participants of all ages and walks of life with dozens of civic and youth groups, organizations, churches, businesses and individuals taking part in the procession. To watch, stand along John Sims Pkwy. and Partin Dr. Businesses, individuals and organizations are encouraged to participate. For more information and parade registration, visit Nicevalrotary@yahoo.com or find on Facebook/Niceville-Valparaiso-Rotary-Club.
3rd Annual Santa Paddle Parade
Sat., Dec. 19, Bluewater Bay Marina
All paddlers are welcome; if you can paddle it, bring it! Paddle on a stand-up paddle board, canoe, kayak, paddle boat or surf skis. A group photo will be taken at noon with paddle starting at 12:10 p.m. when the group of Santa Clauses leave BWB Marina and paddle East to Rocky Bayou Bridge, North to North Shore of Rocky Bayou and back to the Marina. Registration is $30.00 and includes your Sunny Santa Suit, which must be worn during the paddle. The first 75 to register are guaranteed Santa suits. Proceeds benefit Sharing and Caring of Niceville. To register, call Bluewater Bay Marina Ship Store at 850-897-2821or visit bluewaterbaymarina.com.
Ring in the holidays with the NFSO Holiday Pops!
Fri., Dec. 11, 7:30 – 9 p.m., Mattie Kelly Arts Center
Hosted by Mattie Kelly Arts Center, Northwest Florida State College and Northwest Florida Symphony Orchestra, join Northwest Florida Symphony Orchestra conductor search finalist Kellen Gray and the NFSO for the symphony's annual Holiday Pops concert. Familiar holiday works will fill you with the spirit of the season, along with some surprises! Tickets: $25 Adults; $16 Youth, FREE for NWFSC Students with ID. Tickets: Mattiekellyartscenter.org; Virtual tickets available for live streaming at www.virtualticketcenter.com.