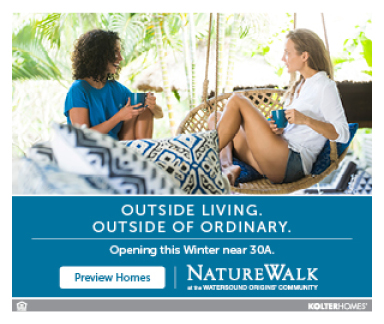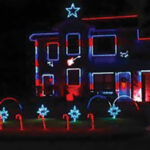 The 2020 Troon Goon Christmas Lightshow in Bluewater Bay is being held through Jan. 6, 2021, each evening from 6 to 10 p.m. Hosted by Gregg Velez and family at 1074 Troon Dr., E in Niceville (Bluewater Bay), the free, 30-minute residential light show combines classic Christmas songs with modern versions for a fun and energetic twist of holiday entertainment and loops on the hour and half-hour. Now in its fourth year, the show is all-new for 2020 with updated light and feature additions using the highest technology of programmable RGB LED lights and features house lights, a mega tree, bouncing arches, floodlights, pixel matrices and other graphic features changing to the beat of the music.
By nature, the light show is a COVID-safe environment: Visitors can watch the show from their vehicles and listen to the accompanying music by tuning their radio to 101.3 FM.
The show's music includes Christmas songs from past and present, and viewers can vote for their favorite versions online while they watch. On Christmas Eve and Christmas night the music will be played outside via stereo. Visit Facebook.com/troongoonchristmas for more information.
Let's Glow at the New Year's Eve Party At LJ Schooners, 9 p.m. – 1 a.m. Usher out 2020 and welcome 2021 with a GLOW at LJ Schooners Dockside Restaurant & Oyster Bar. DJ Diamond Dan will provide entertainment the entire evening. 290 Yacht Club Drive, Niceville, FL 32578. 850-897-6400.
Paddle with the Santas at the 3rd Annual Santa Paddle Parade at LJ Schooners Dockside Restaurant & Oyster Bar, Saturday, Dec. 19 at noon. Registration is $30 and includes a Sunny Santa Suit which must be worn during the parade. All proceeds will benefit Niceville Sharing & Caring. 850-897-2821
Main Street Defuniak Springs is hosting it's "Merry Main Street" every Saturday before Christmas in historic Downtown DeFuniak Springs. Events include in-store specials, visits with Santa & Mrs. Claus, photo opportunities with The Character Clubhouse, and live holiday performances by local groups. Free to attend, all Merry Main Street events will take place outdoors on Baldwin Ave. between S. 7th and S. 8th St. For event schedules and more information, visit mainstreetdfs.org/merry-main-street.
Enjoy Jolly Jubilee 2020, now through Sun., Dec. 20. Destin Commons is hosting a series of holiday happenings. With the 50' Christmas tree as a backdrop, Destin Commons creates the premier holiday atmosphere with 10 large reindeer topiary shrubs, multiple Christmas trees, Christmas carolers and live performances! Check Facebook for dates and times.
Emerald Coast Theatre Company presents A Christmas Carol
Dec. 4,5,10-12,17-19 at 7:30 p.m. Dec. 6,13,20, at 2 p.m.
This theatrical adaptation of Charles Dickens' spirited classic uses only five actors to bring the most beloved holiday characters to life. From Ebenezer Scrooge and Tiny Tim to Bob Cratchit and Mrs. Fezziwig, Patrick Barlow's take on A Christmas Carol uses nothing more than some simple props, fresh physicality and the power of imagination to convey this timeless story of redemption.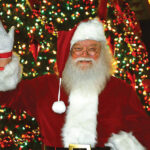 Get your free photo taken at Bass Pro Santa Wonderland Nov. 7- Dec. 24. Make a required reservation online at basspro.com/santa to reserve your spot, limited to allow social distancing. Temperature screenings are required. It's a "contactless Claus" visit; only wishes can pass through the magic Santa Shield. Physical distancing, Santa's Sanitation Squad, team face coverings and cleaned surfaces between each visit offer safety. Bass Pro Shop, Destin Commons. 1-800-BASSPRO
Celebrate the New Year with Baytowne Countdown! Ring in the New Year with an evening to remember— two breathtaking fireworks displays at 8 p.m. and midnight. Enjoy a family friendly evening from 5-8 p.m. with face painting, kids' activities and LIVE music on the Baytowne LIVE stage with DJ 30A from 5 -7 p.m. and the first fireworks display at 8 p.m. Dance the night away with LIVE music from GROOVY 7 from 7 p m. until 1 a.m. End the night with a spectacular midnight fireworks show! *21 & over after 10 p.m. 20 & under must be accompanied by a legal guardian after 10 p.m.