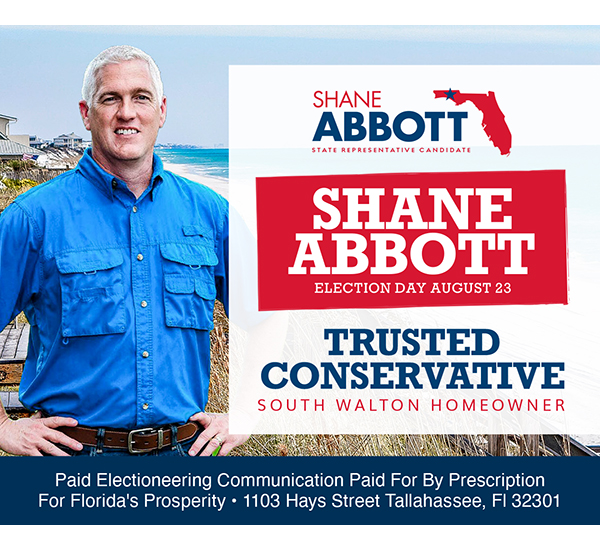 Okaloosa County 2022 Primary Election
Election Day: August 23, 2022
Early Voting: Aug 13-20, 2022
Visit voteokaloosa.gov for information and links for the below:
• Register to Vote
• Early Voting
• My Voter Status
• Where Do I Vote?
• Vote by Mail
• Military & Overseas Voters
• Who are the candidates?
You can also download a Voters Guide.
Walton County 2022 Primary Election
Election Day: August 23, 2022 (7:00am-7:00pm)
Early Voting: Aug 13-20, 2022
Saturday, Aug 13th (8:30am–4:30pm)
Sunday, Aug 14th (1:00pm–9:00pm)
Mon–Sat, Aug 15th–20th (8:30am–4:30pm)
Registration Deadline: July 25, 2022
Visit votewalton.com for information and links for the below:
• Sample Ballot and Info
• Register to vote
• Update your registration
• Check your registration
status and voting info
• Request a mail ballot
• Check your mail ballot
status
• Offices up for election
• Who are the candidates?
WRWF Candidate Forum Offers an Opportunity to Hear Candidates
On Wednesday, August 3rd, you will have the opportunity to hear from all the candidates for both Walton County Commissioner and Republicans for District 2 State Senate on the same night.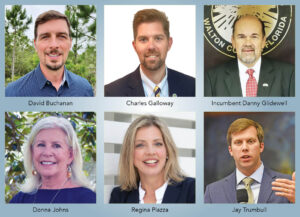 You are invited to this double forum to be held at Defuniak Springs Community Center, 361 N. 10th Street in DeFuniak Springs, hosted by Walton Republican Women Federated (WRWF). Arrive early and enjoy the delicious Rudy's Barbecue buffet dinner with all the sides and trimmings, plus iced tea and dessert.
The primary elections will be held on August 23rd. The hotly contested District 4 Walton County Commissioner race will be decided that day between candidates David Buchanan, Chas Galloway and Donna Johns. Incumbent Walton County District 2 Commissioner, Danny Glidewell, is running unopposed. He will be presenting his platform at this August 3rd forum. Republican candidates for District 2 Florida Senate are Regina Piazza and Representative Jay Trumbull. The winner of their primary Senate race will face their democratic opponent in November.
Both August 3rd forums will be covered by regional media. The forums will provide the voters an opportunity to hear from all the Republican candidates, as WRWF has a reputation of conducting fair and balanced forums, in a professional and secure environment.
WRWF is a premiere political club of more than 130 members who work tirelessly on behalf of the entire county, with a commitment to be the "boots on the ground" supporting Republican candidates. WRWF is known for upholding conservative, constitutional values. Men are welcome to join as associate members, too. Members have recently enjoyed hearing from high profile speakers including Senator Rand Paul, Congressman Matt Gaetz, Senator Marco Rubio and Attorney General Ashley Moody.
Advance registration is required and attendees are encouraged to register early as the WRWF events regularly sell out. Guest registration is available at: www.waltonrepublicanwomenfederated.org/event-list/#!event-list or just Google search "Walton Republican Women Federated" website and look for the "events" option on the drop-down menu. Questions, registration assistance, and forum topic requests may be sent to: WRWFederated@gmail.com.