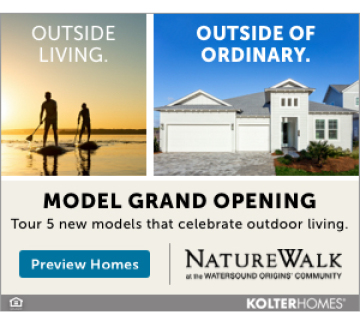 NWFSC Opens Walton Works Training Center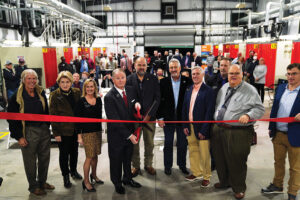 Northwest Florida State College's (NWFSC) Walton Works Training Center of Excellence is officially open at the Chautauqua Center in DeFuniak Springs. Its overall purpose is to create a catalyst for economic development by cultivating a homegrown workforce that is professionally trained in order to make an immediate impact.
The Walton County Board of County Commissioners' generous commitment of $1.5 million RESTORE Act dollars advanced this project into a reality. Additionally, the Walton County Sheriff's Office's unwavering commitment to creating the region's preeminent public safety training center led to generous donations of equipment and a joint Fire Training Facility that will open in late spring.
NWFSC is honored to share the vision for workforce education in Northwest Florida with the Triumph Board and Chairman Don Gaetz. Through this joint effort, the region will be provided the economic transformation that is the premise for which Triumph Gulf Coast was founded. The training opportunities offered at this center will produce both workers with the skills needed to earn a family sustainable wage and new employers looking to grow and expand their businesses here.
The $5.7 million Walton Works Training Center of Excellence is comprised of two new buildings, labs and classroom space. The 7,000 square-foot central Walton Works building houses 17 bays that were constructed on NWFSC's Niceville campus by our welding instructors and students and provides space for the welding and industrial programs. An adjacent 900 square-foot indoor drone arena will be used for Unmanned Vehicle (UMV) certification and testing. Interior renovations modernized existing administration buildings and created a multi-purpose skills lab for the Construction Trades Program.
The overarching project expands career education programs in public safety (law enforcement, fire, emergency medical technician (EMT)), cybersecurity, drone technology and building trades (plumbing, HVAC, welding, millwright and construction). By 2024, a minimum of 1,570 industry-recognized certifications will be awarded, providing an expanded talent pool that will bolster northwest Florida's economy.
For more information, contact Dr. Michael Erny at (850) 729-6051 or ernym@nwfsc.edu.
UWF to Offer Fully Online Bachelor's in Public Health in Fall 2021
Starting in Fall 2021, the University of West Florida (UWF) will offer a new, fully online Bachelor of Science in Public Health degree, pending approval from the Florida Board of Governors. "The demand for employment within the public health field is steadily increasing and this program will infuse highly-qualified graduates into the state workforce," said Dr. George Ellenberg, provost and senior vice president.
The current public health workforce in the U.S. is an older demographic and the Council on Education for Public Health predicts half of the current workforce will retire or resign in the next five years. The U.S. Bureau of Labor Statistics predicts 32% growth for medical and health service managers through 2029. The BLS reports the current annual median salary is $100,980. Additionally, the Florida Department of Economic Opportunity Data Center estimates 16% growth for medical and health service managers over that same span.
Areas of focus include the basic processes, approaches and interventions that identify and address the major health-related needs and concerns of populations.
To learn more, visit uwf.edu/publichealth.
Winners of Arnie Hart Juried Student Art Exhibition at NWFSC Announced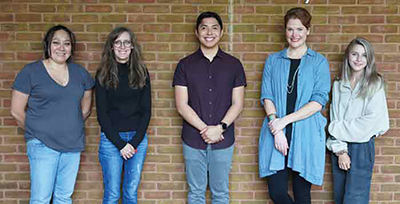 The student art exhibition, as well as the annual NWFSC Faculty Exhibition, is on display through May 7 at the Mattie Kelly Arts Center Galleries.
Each year, submitted student artwork is juried by an art professional and selected for exhibit in the McIlroy Gallery. This year's juror was James Rhea, Fine Arts Professor at Pensacola State College. Students work in a variety of two- and three-dimensional media including painting, sculpture, printmaking, photography and ceramics.
"I'm really proud of the students and am especially impressed by how they are striving through difficult times with the pandemic," NWFSC Art Instructor Leigh Peacock Westman said. "Just learning how to take classes either all online or a hybrid version, everyone is on a learning curve of how to balance life like that. Seeing all the work here has been pretty inspiring."
Juried Student Exhibition Winners for 2021 include:
Best in Show: Mercedes Damon, Organized Chaos; 2D 1st: Matthew Nguyen, Abandoned; 2D 2nd: Katie Strom, Caveman: A Tactile Self Portrait; 2D 3rd: Tetyana Watson, Still-life with Wine; 3D 1st: Josie Wenner, First Angel; 3D 2nd: Jin Ju Salazar, Happy Elephant; 3D 3rd: Yvonne Cabrera, Lady in Silver
Exhibitions are open Monday – Friday, 10 a.m. – 4 p.m., and 90 minutes prior to most Mattie Kelly Arts Center performances. For more information, contact J.Wren Supak, Gallery Director, at 850-729–6044 or artgalleries@nwfsc.edu.
2021 Walton County Scholastic Chess Tournament
The 2021 Walton County Scholastic Chess Tournament will be held Saturday, April 24, 2021 at the Coastal Branch Library, 437 Greenway Trail, Santa Rosa Beach, Florida. This tournament will be open to all school-age children in Walton County. There is no entry fee.
Onsite registration is from 9 -10 a.m. April 24th; students can pre register by calling (859) 267-2809. Players will have 30 minutes for each game to make all their moves, and tiebreakers will be resolved by playing a 5-minute game.
There will be four sections: Grades 9-12; Grades 6-8; Grades 2-5; and PreK-1. The games are scheduled to begin at 10:00, 11:30 and 2:00 with accelerated pairings whenever possible. The PreK-1 section will follow a different time schedule and be finished before noon. Following U.S. Chess guidelines, all chess players and visitors will be required to wear a mask. After each round, all clocks, boards and pieces will be cleaned and disinfected. Latex and Nitrile gloves will be available for those who want to use them, and hand sanitizer will be available.