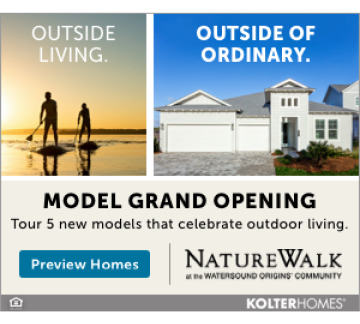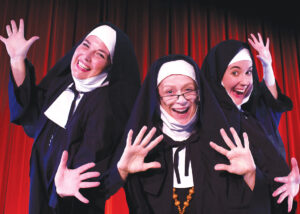 One of Off-Broadway's most popular musical comedies, Nunsense, is running now through Sunday, Oct. 3. Performances are Thursday, Friday, Saturday and Sunday at 7:30 p.m. with 2:30 p.m. Sunday matinees Sept. 19, 26 and Oct. 3.
This comedic spoof follows the misadventures of the Little Sisters of Hoboken trying to manage a fundraiser. Sadly, after the deaths of the rest of the sisterhood from botulism after eating vichyssoise prepared by Sister Julia (Child of God), the remaining nuns stage a talent show to raise money to bury their dearly departed. Participating in the project are Mother Superior Sister Regina, a former circus performer who cannot resist the spotlight; her competitive but dignified rival, second-in-command Sister Mary Hubert; Sister Robert Anne, a streetwise nun from Brooklyn; Sister Mary Leo, a novice who is determined to be the world's first ballerina nun; and wacky, childlike Sister Mary Amnesia, who lost her memory when a crucifix fell on her head.
Tickets are $36 per person for adults, $34 for seniors (55 years-old and up)/military and $30 for students (must show ID). Purchase at www.emeraldcoasttheatre.org. Performances are held at 560 Grand Boulevard in Miramar Beach.
ECTC October
Special Events:
Oct. 2, 2:30 p.m.
Jr. Thespian/Company Showcase
Group and solo works by talented ECTC teens include classic and contemporary musical theatre pieces, improv, and comedic and dramatic selections.
Oct. 5, 7:30 p.m.
Storyteller Series:
Shirley Valentine by Shirley Simpson
Wondering what has happened to her youth and feeling stagnant and in a rut, Shirley finds herself regularly alone and talking to the wall while preparing an evening meal of 'chips and egg' for her emotionally distant husband. When her best friend offers to pay for a trip-for-two to Greece, she packs her bags, leaves a note on the cupboard door in the kitchen, and heads for a fortnight of rest and relaxation. There, she rediscovers everything she had been missing about her existence in England. Will she return?
Oct. 19, 7:30 p.m.
Comedy on the Boulevard
ECTC presents some of the Southeast's most hilarious comedians.
Oct. 26, 7:30 p.m.
Bryan Kennedy and Forrest Williams Songs Around the Campfire
Oct. 29/30-7:30 p.m.
Cabaret on the BOO-levard
Join your favorite ECTC performers for a spooky night with some of the most popular hair-raising Broadway showtunes including Wicked, The Addams Family and Beetlejuice.
Tickets range from $20 to $30 per person. Purchase at www.emeraldcoasttheatre.org. All events are held at 560 Grand Boulevard in Miramar Beach.