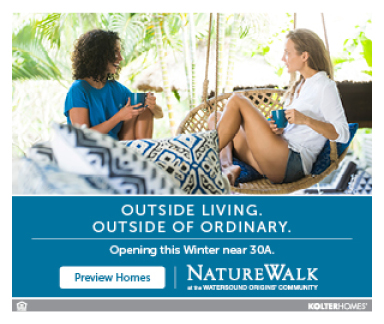 'Red Riding Hood'
Runs Sept. 19, 20, 26 & 27
'Uplift! A Fun Evening Filled with Broadway Favorites, Laughs and Joy' is a One-Night-Only Performance Sept. 29 at 7:30 p.m.
Emerald Coast Theatre Company (ECTC) kicks off its 8th annual season with two special productions:
A modern adaptation of the classic fairytale Red Riding Hood, the first professional Theatre for Young Audiences (TYA) production of the season. Tara Padgett (Miss Bennett: Christmas at Pemberley) and Grant Oberle (seen locally in Moonlight and Magnolias and Thoroughly Modern Millie) star in this musical comedy that opens Saturday, Sept. 19 at 7 p.m. and runs Sunday, Sept. 20 at 2 p.m.; Sept. 26 at 7 p.m. and Sept. 27 at 2 p.m.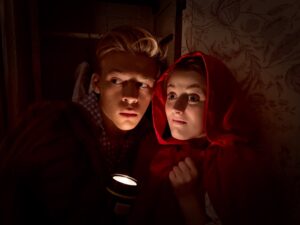 In this version, directed by ECTC producing artistic director Nathanael Fisher, Bridget and Stephen are on a sleepover at grandma's house and neither of them can sleep. Bridget finds a red cloak in the wardrobe and imaginations soar as they act out their favorite story with props and costumes found around the attic. Reality and imagination blur, and soon the children find themselves in the deep dark woods with a hungry wolf tracking them down.
Tickets—$18 for adults; $16 for seniors/military; $12 for children 4 to 12; children ages 0-3 are free and must sit on an adult's lap.
For the second season offering, Broadway sensation Nicholas Ward debuts his solo concert performance, Uplift!: A Fun Evening Filled with Broadway Favorites, Laughs and Joy for one-night-only on ECTC's stage on Tuesday, Sept. 29 at 7:30 p.m. Ward, who grew up in Niceville, was a featured performer in ECTC's Virtual Talent Show as well as Cabaret Broadway Playlist Live this past summer and comes back to ECTC's stage fresh from performing King Agnarr in the original cast of the Broadway hit musical, Frozen. Ward, who appeared as Mufasa in The Lion King, made his Broadway debut in the critically-acclaimed revival of On the Town opening the show with his rich basso profundo voice, singing Leonard Bernstein's stirring number, I Feel like I'm Not Out of Bed Yet. He earned a Drama Desk Award nomination for his performance in In Transit, Broadway's first a cappella musical, which was then performed at Carnegie Hall.
Other credits include Olin Britt in The Music Man; and as a featured soloist in Andrew Lippa's Kristin thrilling opera, I am Harvey Milk.
Favorite regional roles include Jim in Big River, Joe in Show Boat, Caiaphas in Jesus Christ Superstar, and The Giant in Big Fish. You can even catch Nicholas sharing the screen with the legendary Meryl Streep and Audra McDonald in the lively film, Ricky and The Flash.
Tickets to Uplift! are $28 per person general admission.
Patrons can find the detailed safety protocal plan on ECTC's website home page.
The 2020-2021 Professional Mainstage season continues with First Date, Oct. 9-25; A Christmas Carol, Dec. 4-20; Florida Girls, Jan. 15-31; and Popcorn Falls, Feb. 12-28.
Find the entire season roster and purchase tickets or VIP memberships at www.emeraldcoasttheatre.org.