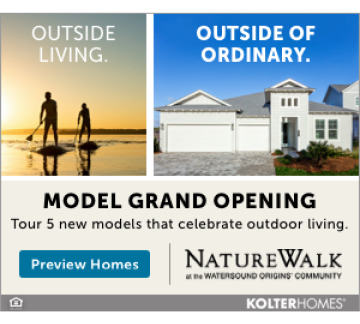 By Kelly Humphrey
The previous site of the Bluewater Bay community's first early learning facility is filled with the sound of children's voices once again.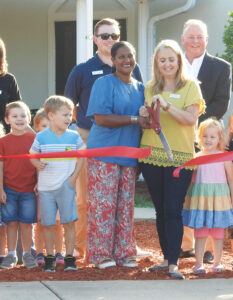 Tammie Bowyer and Marilyn Wallace, the owners of Stepping Stones Early Learning Academy in Niceville, have purchased the former Discovery Learning Academy building on Commercial Drive. They've named the new location Stepping Stones Too and will continue to operate their original Stepping Stones school on its current site.
"We are so excited to be expanding," said Tammie. "There is a huge shortage of quality early education options in Niceville, and we were always looking for a place to grow."
When Discovery Learning Academy closed in November 2019, Tammie and Marilyn were immediately interested in the property. But as with so many businesses, their plans were interrupted by the onset of COVID-19.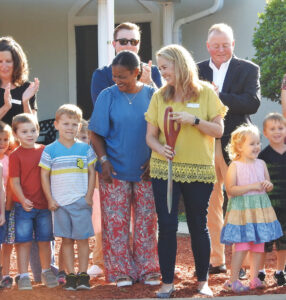 "We're finally able to move forward," Tammie said as she and Marilyn sat on tiny children's chairs in one of the many rooms that have undergone renovation in the 16,000 square-foot building. "Our contractors, Kevin Tingle and Brian Kirk of CK Construction, worked day and night to get things finished."
Tammie added that Brian has a particular incentive to finish the project as soon as possible.
"His child is going to be one of our students," she said with a smile.
Their new facility is just the latest venture for Tammie and Marilyn, who worked together at a preschool in Destin for 20 years before opening their first pre-school two years ago.
"I like to say that Marilyn and I are like yin and yang," Tammie said. "She's in charge of the operations side, and I handle the business side."
Originally from Mississippi, Marilyn began her career as a traveling nanny. When her work brought her to Destin, she decided to make the area her home. Tammie refers to Marilyn as a "super nanny" who has tremendous insight when it comes to working with children.
"I love it," Marilyn said. "Caring for children is my calling. I didn't choose it; it chose me."
Tammie, a Niceville native and a graduate of Niceville High School, shares Marilyn's passion for early childhood education.
"There's an old saying that you should find what you love to do, and you'll never work a day in your life," she said. "That's what I've done. Marilyn and I are just as excited about our work today as we were 20 years ago when we started."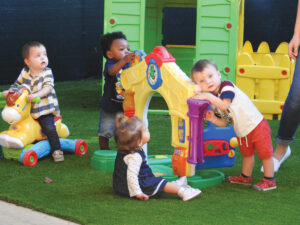 Both Tammie and Marilyn stress that Stepping Stones Too will not be a "day care center."
"We are a school readiness and early childhood education provider," Tammie said. "We provide an environment that allows our children to learn and explore. We are a faith-based school, so the children will be learning Bible stories and songs as well."
In addition to activities that help children develop their academic and motor skills, the school will offer early intervention for children with learning challenges.
"We provide a setting for speech, occupational, and physical therapists to provide their services," Tammie said. "Early intervention is so important."
"We also care about their social and emotional needs," Marilyn added. "We take children from three months old to kindergarten."
In addition to its all-day program from 7:15 a.m. to 5:15 p.m. Monday through Friday, the school will offer a daily pre-school option from 8:30 a.m. to 2:30 p.m.
"We are already an approved Voluntary Pre-K provider at our current location," Tammie said. "We plan to continue that here."
Christina Herden, property manager for building's owner, Conrad Properties of America, is particularly happy to see Tammie and Marilyn take over the facility. Her father, Raimund Herden, is one of the founders of Bluewater Bay. "He has always been so proud that Bluewater Bay has something for everyone, from the youngest to the seniors," Christina said, referring to the American House senior living facility not far from the new home of Stepping Stones Too. "When Discovery Learning Academy closed, we had several opportunities to sell or lease the building to other businesses. However we hung on to it, because my dad wanted to wait until we found the perfect fit. He loves children and wants the best for them."
Christina feels confident that they made the right choice. "I've known Tammie forever – we went to high school together," she said. "I know that she and Marilyn will do a fantastic job continuing the work of Terresa Teutenberg who founded Discovery Learning Academy years ago." Terresa was killed along with her husband and five of her six children in a plane crash in 2011.
"Terresa was like a human jungle gym," Christina added. "You never saw her without a child hanging on her legs and in her arms. She just adored children and they adored her."
Tammie nodded. "When Terresa started Discovery Learning Academy, she had a vision to provide excellent care for children in the Bluewater Bay community," she said. "We want to carry on that legacy."