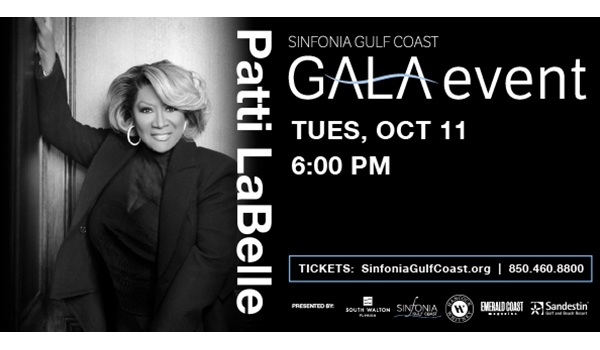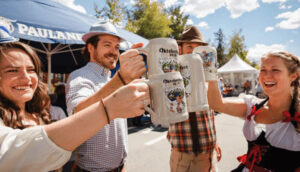 The 28th annual Oktoberfest and Arts & Crafts Festival at Winn Dixie Plaza in Bluewater Bay is looking for artists and craftsman interested in selling their work. Sponsored by the Mid-Bay Rotary Club, the festival will be held on Fri., Sep. 23rd from 5 to 10 p.m. and Sat., Sep. 24th from 11 a.m. to 10 p.m. The festivities will include the Joe Occhipinti German Band, Accordionist Walter Kasprzyk, Face Painter Maria, The Emerald Coast Community Band and Folk Musician Gary Schmitz and over 30 vendor booths. There will also be a children's giant slide, rock climb and bouncy house. Brats and Kraut, German Pretzels, Chicken, Hot Dogs, German beer, soda and water will be served. Free admission! Cost for the two-day event is $125. Call C.L. at 850-737-0088 to obtain an application.
The Freeport Republicans will meet Tuesday, Sept. 13 in Freeport at the Hammock Bay Clubhouse, 1830 Great Hammock Bend. Registration begins at 5:30 p.m.; meeting 6-7 p.m. The 1.5hour movie, Rigged, about election fraud/integrity will be shown. The Freeport Republican Club meets monthly on the second Tuesday at the same location and time. The next meeting is Oct. 11 at 6 pm.
Have you ever wondered how you could help children in your community? Have you ever wondered that you could enhance someone's life to result in a positive outcome? Have you ever wondered if you could make a difference? Have you ever wondered what is Guardian ad Litem? Attend the Guardian ad Litem informational session which will answer all of these questions and then some—Wednesday, Sept. 14 from 10 a.m. to noon at the Hammock Bay Clubhouse. You will learn how you can help children in your community to have a positive outcome and make a difference.
The Walton County Republican Executive Committee (REC) will meet Monday, Sept. 19 and again Monday, Oct. 17 at the Hammock Bay Clubhouse, 1830 Great Hammock Bend in Freeport. Registration begins at 5:30 p.m.; meeting 6-7 p.m. Open to Republicans in Walton County. The REC meets monthly on the third Monday at the same location and time.
The Emerald Coast Children's Advocacy Center (ECCAC) presents its 6th Annual Wiggin' Out for a Cause presented by Great American RV Superstores on Thursday, Sept. 22, 6-10 p.m. at Shoreline Church event area, 140 Palmetto St., Destin. With a "Prom Night of Your Dreams" theme, ladies and gentlemen come dressed accordingly in your best (or worst) prom attire. The event will be filled with wine and punch cocktails, food, fun, photo booths and live DJ music with dancing. Both men and women will receive their own personal wigs. Tickets are $90 per person. Limited VIP tickets at $150 per person include a designer wig and attendance at a private VIP pre-party from 5-6 p.m. Proceeds benefit ECCAC. Purchase online at www.eccac.org, or call Ana Michalzik at (850) 420-4639.
The Annual Sacred Heart Charity Golf Classic will be held Friday, Sept. 23, at Burnt Pine Golf Club. Proceeds will support the acquisition of a state-of-the-art CT Scanner for pediatric and adult patients at Ascension Sacred Heart Emerald Coast. Registration and breakfast at 8 a.m.; start at 10 a.m. There will be 28 teams. For more information, visit www. sacredheartcharitygolf.com or call (850) 278-3702 or lisa.wainwright@ascension.org.
E.O. Wilson Biophilia Center will host Fallapalooza, Sat., Sept. 24 from 9 a.m. to 2 p.m. Fun for the entire family, there will be bouncy houses, food trucks, fall games, animal encounters and more! Free for members; 13 & up $8; 3-12 years $5. Call 850-835-1824 or visit Eowilsoncenter.org for more information. 4956 State Hwy. E, Freeport.
Join the Heritage Museum of Northwest Florida for its 2022 New Membership Drive. Come as a new member during Constitution Week to show your support of local history—preserving the past for the future. The Museum will host a new members Meet & Greet on Sept. 24 at 2 p.m. where you can enjoy light refreshments.
Mid-Bay Bridge Rotary held its Second Annual Charity Cornhole Tournament Saturday, July 16, at 3rd Planet Brewing, with net proceeds topping 2021. More than 30 teams signed up, but the first date was rained out, so a few teams were not able to make the new day. Most teams who could not attend generously donated their entry fee back to Rotary. Funds from entry fees, sponsors, raffles and silent auction will raise nearly $2,000. The double-elimination partner tournament lasted more than 4 hours. Winners were Melissa Hoke and Shelly Butler, first; Sam Spangle and Eric Vanheteren, second; and Lauren Perren and Noah Riley, third. Prizes sponsored by 3rd Planet Brewing, totaling $300 in gift cards, were awarded for first, second and third place. Mid-Bay Rotary thanks Heather Julseth, 3rd Planet events manager, for her help. Net profits will be earmarked for local and international charities.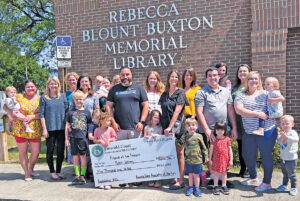 The Rebecca Blount Buxton Memorial Library, aka the Freeport Public Library, dove into "Oceans of Possibilities" on Tuesdays as the theme of this season's 2022 Summer Reading Program, thanks to the Emerald Coast Association of Realtors (ECAR). ECAR's generous donation of $5,000 covered nearly all costs of this yearly program. From live animal encounters, to story tellers, the Summer Reading Program encourages school-aged children to earn tickets for raffle prizes, through reading and other community activities. The Friends of the Freeport Public Library (FFPL) would like to thank North Walton Director for ECAR, Rick Gonzalez and Treasurer Amanda Grandy for the check presentation and the sponsorship for this year's events. According to Rick, the donation was part of the Association's efforts to give back to communities along the Emerald Coast. As Freeport grows, the Public Library continues to offer needed events and activities for persons of all ages, and relies on volunteers to assist as such. If you have a skill you would like to offer, please contact the library at (850) 835-2040. Pour painting, Jewelry design, Rock Painting, Yoga, Basket Weaving are examples of past volunteer led programs. "Like" Friends of the Freeport Public Library on Facebook to keep up with the exciting FFPL news. Thank you to all our patrons, volunteers, staff and sponsors.
Niceville HS Senior Wins ECPro Foundation Scholarship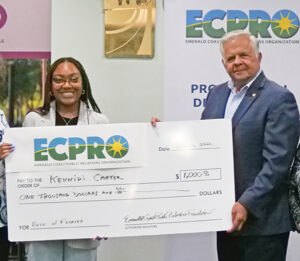 Kennedi Carter, a recent graduate of Niceville High School, was awarded a $1,000 scholarship from the Emerald Coast Public Relations Foundation (ECPRF). The Foundation, the non-profit arm of the Emerald Coast Public Relations Organization (ECPRO), awards the scholarship annually to a graduating senior in Santa Rosa, Okaloosa or Walton County who plans to pursue a college degree in public relations, journalism, marketing or communication. Kennedi graduated Summa Cum Laude from Niceville High School with a 4.61 GPA, was a National Honor Society member and an AP Scholar with Distinction. She will attend the University of Florida and major in marketing. Funding for the scholarship was made possible with the support of Eglin Federal Credit Union, the Niceville office of Carr, Riggs & Ingram, and Cherie Anderson of Merrill Lynch.
In July, Barbara Harrison, Outreach Chair for the Sand Dunes Chapter of the Embroiderers' Guild, presented a "Welcome Sampler" to Katrina Mashburn and her three daughters at the dedication of their Habitat for Humanity home located in Crestview. The sampler was stitched by Cheri Hammer and framed into a key holder by Cynthia Hardesty—both chapter members. Sand Dunes Chapter meets the second and fourth Sunday of the month at the Holy Name of Jesus Catholic Church in Niceville in the Religious Education Building, Room 1, from 1:30 to 4:30.
Calling All Teachers! Costa Enterprises McDonald's wants YOU to enter for a Golden Grant, available in Alabama and the Florida Panhandle! They're giving away $500 to 36 teachers for programs and activities that help area students! Applications are due September 6! To enter, visit http://goldengrantsal.com.
This Labor Day Weekend, Friday, Sept. 2 through Sunday, Sept. 4, join The Village of Baytowne Wharf for Perfect Hues: Baytowne Art & Food Fest! Each evening from 5-10 p.m., stroll The Village streets as you browse a variety of artwork from local and regional artists, and savor bites from some of the area's best restaurants and food trucks. Enjoy LIVE music throughout the festival and a spectacular fireworks show over the lagoon on Sunday at 9:30 p.m.
Mark your calendars for The Market Shops 7th Annual Bloody Mary Festival happening Saturday, Oct. 22, benefitting Habitat for Humanity – Walton County!
For $60, enjoy unlimited tastes of the Emerald Coast's best Bloody Marys served by local restaurants and bars. Attendees will also enjoy craft brews, champagne, live music, photo booth, SEC football, lawn games, a Shore Thing Cigars cigar bar, along with delicious bites and shopping opportunities.