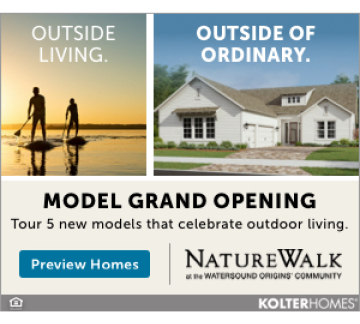 Twin Cities Woman's Club Makes Donations/Elects Officers
Recently, members of the Twin Cities Woman's Club voted and approved the distribution of $7300 in Community Funds for 2019-20: $4,500 was donated to the Northwest Florida State College Foundation for the Twin Cities Woman's Club Scholarship Endowment; $2,000 was donated to Take Stock in Children; $500 was donated to the Twin Cities Pavilion in Niceville; $150 was donated to Healing Paws for Warriors; and $150 was donated to the Mental Health Association of Okaloosa/Walton County.
Also, members elected the following officers for 2020-2021: President – Kissy Gordon; Treasurer – Dale Fuqua; Recording Secretary – Lindey Chabot and Corresponding Secretary – Nellie Schlachter. Even though the Club has temporarily suspended activities for the next several months, it is still recruiting new members and invites you to join! Send an email to Sylvia McCurdy at TwinCityWC2020@gmail.com.
Crosspoint Youth Basketball League – Register Now!
Who: Grades 1-8
What: Crosspoint Youth Basketball League
When: Practices begin in December and games are played January-February
Where: Crosspoint Community Life Center
Register now through Nov. 6 online at crosspoint.church/recreation.
Tuesday Night Lights at Freeport Middle School
If you're looking to watch some sports without the professional drama, look no further. Tuesday night lights at Freeport Middle School is here. The Bulldogs have been working hard and it shows. It's been difficult from the start with the Covid situation, but the coaches, FMS staff and players have dealt with it and have become a stronger by doing so. Earthquakes, murder hornets, Covid or hurricanes won't stop the "Dawg Nation." So, come on out—game starts at 6 p.m. each Tuesday.
4-H Camp Timpoochee Business Break
Join Camp Timpoochee for a morale building break, getting back to nature and coming together to learn a new skill or relax outdoors around a fire. Choose from one of three Timpoochee lead classes of Archery, Teambuilding or Kayaking, along with enjoying outdoor recreation equipment, campfire circle and the great outdoors. Just $20+tax/person, you will be making an impact on Camp Timpoochee all while taking a break from the office! 10 person/day max. Call or email for more information or to book! 850-897-2224 or timpoochee4h@ifas.ufl.edu
CVHN Big Give Where You Live
Children's Volunteer Health Network is excited to announce that this year's Big Give is Where You Live! There will be a week-long virtual silent auction from Mon., Sept. 28 to Fri., Oct. 2. The event will wrap up with a live raffle drawing at 7 p.m. on Fri., Oct. 2. CVHN is currently searching for auction items. If you or your business are willing to donate an auction item, please contact Jen Higgins at jennifer@cvhnkids.org.
CALM Fashion Fundraiser – Crystals for a Cause
The 3rd annual fundraiser with Lori Outlaw's Touchstone Crystal by Swarovski will be joined by 9 Pink Magnolias beautiful clothing on Sun., Sept. 20 from 1 – 5 p.m. at VenYou201, 201 Redwood Ave, Niceville. Due to limited seating, the 2 p.m. fashion show tickets may be purchased for $10. Contact Lori at 850.974.5066. To shop jewelry online: www.touchstonecrystal.com/SISFM1NY. Proceeds benefit Crisis Aid for Littles and Moms, CALM, a 501c3 nonprofit offering transitional housing and life skills to single moms and their children.
CALM Giveaway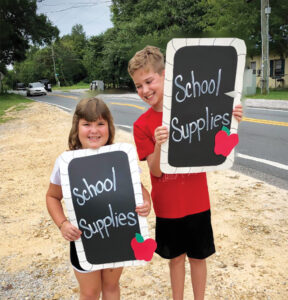 Supplies Give-Away Day. Crisis Aid for Littles and Moms, CALM, in Niceville had a great time and gave away free school supplies to local area students of all ages. "Thanks to our wonderful generous donors and volunteers," said Wanda Siefke, "almost 100 bags of supplies were ready for our drive-through giveaway as well as Culver's scoops, a real hit with the kids at 9 a.m. in the morning!" All remaining supplies were then donated to local schools, Edge and Plew Elementary, to the delight of the teachers. CALM is a 501c3 non-profit offering transitional housing and life skills to moms and their children in crisis. In less than two years, it has housed 20 moms and 31 children.
DCWAF Raises over $1.35 Million for NW Florida Children
Through its First Virtual Auction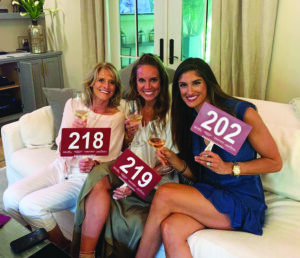 Destin Charity Wine Auction Foundation (DCWAF) celebrated the 15th Annual Destin Charity Wine Auction presented by the Jumonville Family through a new virtual format in August. The event raised $1.35 million for children in need in Northwest Florida, despite the many challenges presented by COVID-19, and far exceeded the Foundation's fundraising goal, breaking former records. The live auction portion of the event was held simultaneously with a live broadcast streamed on YouTube from the Hilton Sandestin Beach Golf Resort and Spa. The Destin Charity Wine Auction has been ranked among the nation's top 10 highest-grossing charity wine auctions in the country by Wine Spectator Magazine for seven consecutive years and is currently ranked sixth. The money raised at this year's auction will be presented to the charity partners this fall in private check presentation ceremonies that adhere to current social distancing guidelines. For more information, visit www.DCWAF.org.
Food For Thought
Food For Thought Outreach and St. Joe Community Foundation announced their multi-year partnership! Food For Thought received a $105,000 grant over the next three years to support their efforts in fighting food insecurity and childhood hunger. Food For Thought's mission is to remove the negative impacts of hunger, and to empower children to get the most out of their education and development by providing them weekly access to healthy, easy to prepare meals through their many programs. The contribution will provide $35,000 per year for Back-to- School and Holiday food pro- grams at Food For Thought. If you or someone you know is in need of support from Food For Thought, you can get information about food distribution the following ways: follow on Facebook @FoodForThought- Outreach, email support@fftfl. org or call 850-714-1960.
Private Pottery Classes Now Available
Private Wheel Throwing and Hand-Building lessons are now available through the Cultural Arts Alliance of Walton County in the Pottery Studio at the Bayou Arts Center. Enjoy a one-on-one introduction to clay with private lessons, perfect for the individual not ready to commit to a 6-week class or the student looking for an after school activity. Instructor Megan Patterson works with students to tailor lessons to their skill set and establish goals for continuing lessons.
*Lessons are $65 for a single 2-hour session. All materials included. To sign up or for more information, contact Megan, megan@culturalartsalliance.com.
Legendary Marine Presents Coastal Distancing Entertainment
Legendary Marine continues its entertainment series on the water titled Coastal Distancing – Boat, Movie & Music Tour—within the Choctawhatchee Bay area, Sat., Oct. 10 and will feature live musical entertainment followed by the movie Ghostbusters. Location and entertainment details can be found on Legendary Marine Facebook events page and website events calendar.
Sponsoring partners include Amazing Lash Studio, Proffitt PR, Emerald Grande at HarborWalk Village and music sponsor Step One Automotive Group. Free and open to the public to attend by boat, this event provides an opportunity for ALL boaters to enjoy live entertainment aboard their vessel with their family alongside fellow boating friends and family.