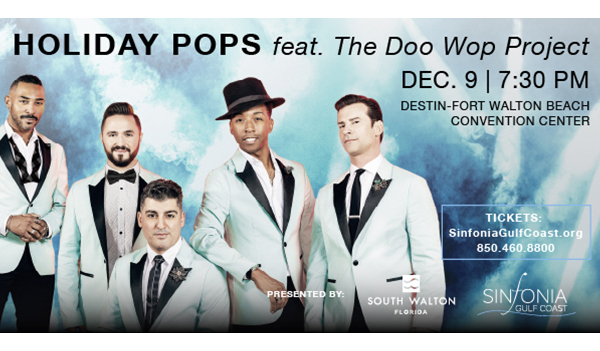 Adopt-A-Family!
Emerald Coast Children's Advocacy Center (ECCAC) is seeking donors who will purchase gifts for individual families who have been identified by the Center. Last year, the program helped 197 children in 70 families have a brighter Christmas. Sign up to Adopt-a-Family online at www.eccac.org. Or, contact Angie Harder at angie@eccac.org, (850) 833-9237, Ext.253, to make arrangements. Then shop for the family and bring unwrapped gifts and Christmas wrapping paper for the gifts by Dec. 18 or sooner to the Niceville or DeFuniak Springs centers. For further information about the ECCAC, visit www.eccac.org.
Arc of the Emerald Coast Receives Donation
The Emerald Coast Foundation recently presented a check for $20,000 to The Arc of the Emerald Coast, a local non-profit that serves citizens with disabilities from Santa Rosa, Okaloosa and Walton counties. The funds were raised through the Annual Poker Run event that takes place in August each year.
Guardian ad Litem Continues Gingerbread Man Program
Bluewater Bay Marina and LJ Schooners Dockside Restaurant have been privileged for several years to assist with Guardian ad Litem's Gingerbread Man Program to help abused and abandoned children have a memorable Christmas! It's so easy; just choose a Gingerbread Man that lists the child's needs and purchase gifts. Then drop them off at Bluewater Bay Marina by Dec. 5 for Guardian Ad Litem to properly distribute. If you feel drawn to assist and help a child, please call 850.897.2821.
Gulfarium Marine Adventure Park Introduces New Harbor Seal
The female seal, named Zoey, arrived at the park in mid-October after transport from another zoological facility. Zoey was originally rescued off the coast of Massachusetts in November 2009, and deemed non-releasable due to re-occurring infections. She has most recently been cared for at the Aquarium of Niagara. Zoey is the mother of Zara, a Harbor seal already living at the Gulfarium. She currently weighs 130 lbs., and gave birth to Zara on July 13, 2017. "Zoey has acclimated to her new surroundings very well," explains Bryan Martin, Director of Animal Management. "She arrived to us in great health and joined our group of 4 Harbor seals very quickly. Now that she has settled into her new habitat with our other seals, we are beginning a training program which includes husbandry and medical behaviors such as mouth examinations, and blood sampling in accordance with Gulfarium's animal care." Visitors can view Zoey, along with 2-year old Zara, Milo, August and Ollie, in the Gulfarium's Seal Harbor habitat.
Northwest Florida State College Launches Apprenticeship Program
Northwest Florida State College is proud to announce its approval to join the State of Florida's Apprenticeship System, allowing the opportunity to train skilled carpenters and plumbers, preparing them to join the labor workforce. Funding was made possible through a $1.75 million State of Florida Apprenticeship Expansion Grant. NWFSC was one of 14 approved sites to receive approval was awarded $100,000 from the state in partnership with CareerSource Okaloosa/Walton. NWFSC will roll out the Apprenticeship Program this spring as participating employers hire apprentices. Apprentices will work 2,000 hours a year in their field of plumbing or carpentry and receive 144 hours of instruction at NWFSC. As part of the program, apprentices will receive classes in financial literacy, safety training and industry-specific training as dictated by the employer to insure a smooth transition from training to real-world scenarios.