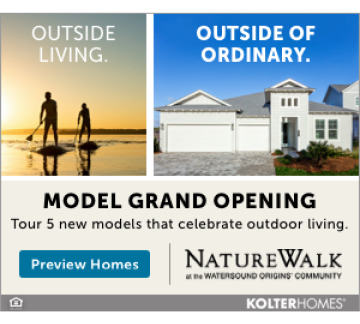 6th Annual LuLu's Marlin 5K Walk/Run | Sat., Nov. 6 | 8 a.m.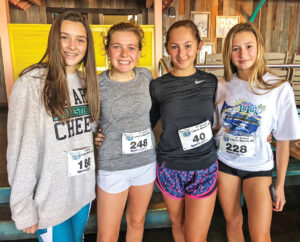 It's time for the 6th Annual LuLu's Marlin 5K Walk/Run to benefit the cheer teams of Niceville High School, Destin Middle School, Destin High School and Ft. Walton Beach High School! Registration begins at 6:45 a.m. The friendly, competitive out and back course starts at LuLu's, goes into the adjacent Regatta Bay community, and ends back at LuLu's. There will be a complimentary Post Run Party for registered runners at LuLu's with food, a raffle, door prizes, silent auction and awards presentation. Entry fee, which also includes a t-shirt for runners/walkers, is $35 per person and $25 for students. Register on-line at www.lulubuffett.com/destin, or visit www.active.com. LuLu's is located in Destin at the foot of the Mid-Bay Bridge next to Legendary Marina. For more information, call 850-710-5858.
Mountain Film Fest at Watercolor
Mountainfilm on Tour returns to WaterColor Marina Park Amphitheater on Nov. 5 -6 at WaterColor Marina Park. Gates open at 5:45 PM. Films begin at 7 p.m. The films for this year's show, a selection from the annual festival in Telluride, Colo., will explore themes connected to Mountainfilm's mission of using the power of film, art and ideas to inspire audiences to create a better world. Purchase tickets at https://www.watercolorresort.com/mountainfilm.html. Mountainfilm on Tour at WaterColor is a rain or shine event. Ticket purchases are non-refundable.
The 5th Annual Honor Games
Supporting Defenders of the Front Line, Veterans and First Responders, this year's annual Honor Games will be held Saturday, Nov. 13 beginning at 8:30 a.m. Register at deka.fit/honorgames2021. 2021 Beneficiaries: Special Ops Survivors, Air Commando Association, Healing Paws for Warriors, The Special Forces Association Chapter 7 and Okaloosa Sheriff's Star Charity. Visit www.emeraldcoasthonorgames.com or follow on Facebook or Instagram.
Green Thumb Garden Club Holiday Bazaar
Join the Green Thumb Garden Club (GTGC) for a festive Holiday Bazaar Sat., Nov. 13, 10 a.m. -3 p.m. at Cantina Laredo, 585 Grand Boulevard in Miramar Beach. The event will showcase unique, creative décor for the upcoming season and beyond—an opportunity to purchase beautiful, one-of-a-kind treasures, handcrafted by the talented GTGC members. GTGC includes members trained in floral designs, master gardening and flower show judging. Among the exceptional items available for purchase will be an autographed, certified Darius Rucker guitar. The event is open to the public and admission is free. Net proceeds will support primarily the Mercer Scholarship as well as Habitat for Humanity of Walton County, E.O Wilson Biophilia Center, John Horton Senior Center and other organizations. For additional information, email greenthumbgardenclubinc@gmail.com.
Harvest House Annual Christmas Bazaar
Harvest House is hosting its 13th Annual Christmas Bazaar on Saturday, November 13 from 8 a.m.-2 p.m. It will be held outside and include plenty of Christmas items for sale that must go. All proceeds go back into the mission. If you are looking to donate or volunteer, you can call Harvest House Destin at (850) 837-2277 to find out how you can help. Visit www.harvesthousedestin.org.
10th Annual 30A 10K Thanksgiving Day Races
Join the signature 10th anniversary of the 30A 10K Thanksgiving Day races, Nov. 25 in Rosemary Beach. With a 10K, 5K and 1-mile run/walk, there is a race distance for every ability. The 30A10K Thanksgiving Day Races have donated more than $430,000 to local charities. All money raised this year will be donated to: The Point Washington Medical Clinic, the Walton County Education Foundation, Northwest Florida Guardian ad Litem, and the Seaside School Foundation. The 10K race ensues at 7:30 a.m. The 1-mile fun run starts immediately after at 7:35 a.m. The 5K race starts at 9:30 a.m. Visit http://30a10k.com to register.
The Nutcracker 2021
NFB's 52nd season begins with The Nutcracker at the Mattie Kelly Arts Center Friday and Saturday, Nov. 19 and 20 at 7:30 p.m. and Sunday, Nov. 21 at 2:30 p.m. NFB's 42nd annual performance is the only full-length version in the area and features a cast of more than 140 performers including international guest artists and over 100 local children. The NFB Symphony Orchestra, led by music director and conductor David Ott, will provide musical accompaniment for all public performances. To purchase tickets, visit nfballet.org; $40 Adult/$20 Child.