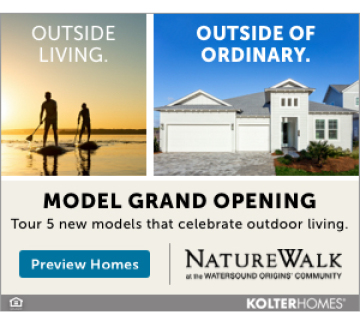 Congratulations NWFSC Graduates
On May 8, Northwest Florida State College held 13 individual ceremonies for members of the 2020 and 2021 graduating classes. Of the 1,333 students eligible to graduate, nearly half of them walked across the stage to receive their certificate, diploma or degree. "I challenge you to take what you have learned at Northwest Florida State College into our community and make a difference. Receiving your diploma, certificate or credential, opens the door to a bright new future—a future filled with endless possibilities," said NWFSC President Dr. Devin Stephenson in a pre-recorded message to all 2021 graduates. "You have already shown that you can be adaptable and flexible while pursuing your goals in the face of unparalleled challenges. Be committed to excellence in all that you do, and success will follow."
Congratulations to all of Northwest Florida State College's 2021 graduates!
Mid-Bay Rotary First Annual Cornhole Tournament – Saturday, June 5
The Rotary Club of Mid-Bay Bridge will host its First Annual Cornhole Tournament to raise money for its charities on Saturday, June 5, at 3rd Planet Brewing, Niceville.
Team check-in opens at 10 a.m. Bags fly at 11 a.m. There will be a maximum of 32 teams in a double-elimination tournament. Entry fee is $25 for a two-person team. All registrations are in advance with a deadline of May 31. Rotary will donate all entry fees to non-profit organizations, and 3rd Planet will donate prizes to the top three teams. Food, beer, soft drinks and sweet treats will be available.
3rd Planet will process registrations and fees in advance. Registration forms are available at 3rdplanetbrewingevents@gmail.com. A link to the entry form will also be on 3rd Planet and Mid-Bay Bridge Rotary websites.
Businesses and non-profits can show their support for community by entering a team or even choosing to be a sponsor:
1. Team entry, $25.
2. Team entry and banner you supply, $50.
3. Team entry, banner you supply and a space for your 10 x 10 tent, $100.
Mid-Bay Bridge Rotary has supported numerous community and charitable organizations over the years with donations. The cornhole tournament was added after club fundraising slowed due to COVID-19.
Area "Queens" Donate to Okaloosa County Officers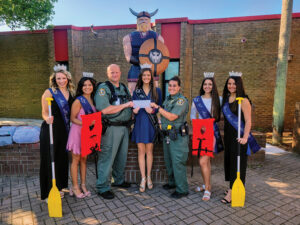 As part of the Miss Niceville and Miss Fort Walton Beach pageants sponsored by Miss Okaloosa County, a People's Choice competition was held. The pageant divided the proceeds of the People's Choice competition between "Cram the Canoe" (a fundraiser put on by the Okaloosa County School Resource Officers to benefit Florida Sheriff's Youth Ranch at Camp Sorenson) and their own activity and scholarship funds. The contestants were also encouraged to bring donations of specific items needed by the camp. On April 12th, several of the Miss Okaloosa County, Miss Niceville and Miss Fort Walton Beach queens gathered at Fort Walton Beach High School where they were pleased to present $600 and the items that were collected to Officers James Reeves and Briana Degennaro.
A Great Awakening Has Started
"The Gathering" is typically held every fourth Friday at 6:30 p.m.. You are invited to join Friday, May 28, and invite someone (especially those that don't know Christ) who might need something that they have not been able to get (i.e. healing, deliverance, security, peace, etc.). The meeting will be held at the beautiful VENYOU 201, 201 Redwood Avenue in Niceville.
"OUR Florida" Launches to Provide Rental Assistance
Department of Children and Families (DCF) Secretary Shevaun Harris announced the launch of OUR Florida, the Emergency Rental Assistance Program, that will benefit Floridians who have suffered due to the pandemic's economic impact on working-class families. Earlier this year, the Department of the Treasury issued $1.4 billion to Florida in emergency rental assistance funds, with approximately $529 million distributed directly by local governments with populations over 200,000. The remaining funds, over $800 million, will be disbursed by the state. The department partnered with Tidal Basin, a disaster and recovery consulting firm, to administer the program.
OUR Florida, or Opportunities for Utilities and Rental Assistance, is now accepting applications for families in need of aid, regardless of their city of residence, at OURFlorida.com. The program focuses on low-income renters whose household income is at or below 80% of the Area Median Income (AMI), which varies by county. The program will prioritize renters with income at or below 50% AMI and/or families who have experienced unemployment within the past 90 days. Floridians who rent their homes are eligible if they:
– Earn an income at or below 80% of the AMI; and
– Have qualified for unemployment, experienced a loss of income, incurred significant costs or faced financial hardships due to the recent public health emergency; and
– Are at risk of losing their home or are living in unstable or unhealthy conditions.
To learn more about eligibility, required documentation, and how to apply, visit OURFlorida.com.
Big Kahuna's Water & Adventure Park Celebrates
Grand Reopening After Park Revitalization
On May 14, Big Kahuna's Water & Adventure Park celebrated its grand reopening, after new owners Boomers Parks spent almost $800,000 revitalizing park attractions and adding additional safety measures. Big Kahuna's Water Park has more than 40 water attractions offering guests opportunities to relax on the Lazy River or seek a thrill on one of its exciting waterslides. Younger guests will enjoy a variety of water play in Bombs Away Bay, Buccaneer Cove, and Pleasure Island. Private cabanas have been upgraded and available to rent with a server to enjoy the park's upgraded food, sodas and alcoholic beverages.
Big Kahuna's team members are screened for COVID symptoms in accordance with the CDC and State Guidelines and provided personal protective gear for every shift. Attractions, restrooms and high touch areas will be rigorously cleaned throughout the day, plus Big Kahuna's have provided numerous, accessible sanitation stations throughout the park.
Big Kahuna's Water Park has an attached Adventure Park open daily with Emerald Coast's largest mini-golf course of 54 holes or for thrill seekers try the Cyclone Twister, Sky Coaster, or the Honolulu Half Pipe. Check the operational calendar on the Big Kahuna's website for current dates and hours.
For information on Big Kahuna's Water Park, visit bigkahunas.com.
Local Flight School to Offer Summer Camp for Middle- and High-Schoolers
Island Air Express flight school will offer an introduction to the world of aviation through the Flight School Association of America's AeroCamp. Students ages 11-18 are invited to participate in the program from June 7-11.
Campers will be familiarized with all things aviation before taking to the skies for in-flight training. Students who prefer to stay on the ground can do so and will cover several aspects of flight including instruction on radio communications, airport traffic patterns, and the basics of aeronautical charts. Campers will be taught by professional certified flight instructors with years of experience in the business.
This program is ideal for anyone interested in a career in aviation, a field that offers very diverse opportunities and professional paths. The price of the camp is $695 and will include flight time, a camp t-shirt, and breakfast.
Island Air Express is located at Northwest Florida Beaches International Airport and has been training student pilots since 1994. The school was founded by the late Morris Jarmon Sr., who was decorated with the purple heart for his bravery in the Vietnam War.
For more information on the program, visit islandairexpress.com or call (850) 814-6407.