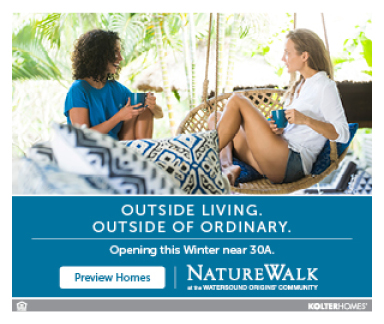 Walton County Transit Service 'GoWal' Launched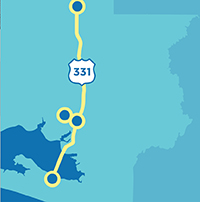 "GoWal," the area's first public transit service offering free rides to those traveling north and southbound throughout the region launched in late June. The shuttle buses run along U.S. Route 331 from DeFuniak Springs to South Walton and operates Monday through Friday, 6 a.m. to 6:30 p.m., with buses running twice in the morning and twice in the evening. The morning routes depart from the DeFuniak Springs Courthouse with a stop in Freeport before arriving at the South Walton Annex. Full route schedules and bus stop locations can be found online at GoWalTransit.com. Each bus features bike racks and free WiFi, along with special accommodations for persons with disabilities.
Walton County Provides Free Day-Use Admission to State Parks
Locals and summer visitors to South Walton will once again be able to enjoy free day-use admission to Grayton Beach State Park and Topsail Hill State Park through Labor Day. The Walton County Tourist Development Council is paying the cost of entry for day-use visitors in order to increase available parking for beach-goers during the peak visitation season, as well as raise awareness of the variety of eco-tourism activities in the area.
The free day-use admission is available during normal operating hours, generally 8 a.m. to sunset. For more information on Topsail Hill Preserve State Park visit www.visitsouthwalton.com/listing/topsail-hill-preserve-state-park Grayton Beach State Park. For more information on Grayton Beach State Park please visit www.visitsouthwalton.com/listing/grayton-beach-state-park.
EDC of Okaloosa County Announces Partnership with FloridaMakes
The Economic Development Council of Okaloosa County (EDC) has entered into a Memorandum of Understanding with FloridaMakes which will add immediate value to the EDC's long-standing Technology Coast Manufacturing & Engineering Network (TeCMEN). The agreement will result in TeCMEN being integrated into FloridaMakes' statewide manufacturing workforce development activities and monthly best practice calls. In addition, FloridaMakes will assist the EDC with promotional activities and content associated with the organization's TeCMEN Industry Day – an event that has become the Gulf Coast region's premier one-day technical expo. Held annually since 2017, the 2020 TeCMEN Industry Day is scheduled for August 27 in Fort Walton Beach.
PAWS Hires New Executive Director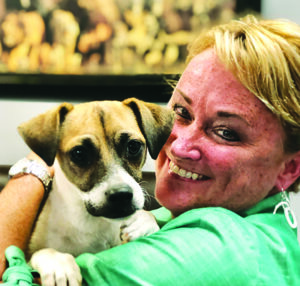 Tracey Williams has become the new Executive Director of the Panhandle Animal Welfare Society (PAWS). Tracey has led local nonprofits and community organizations for the past 20 years as Executive Director of Embrace Florida Kids and Fresh Start for Children & Families; Community Development and Human Resource Manager for The Arc of the Emerald Coast; President/CEO of the Navarre Beach Area Chamber of Commerce; Executive Director of the Navarre Area Board of Realtors, and co-founded the Navarre Press. She also served 13 years in the U.S. Air Force.
Furbulous Animal Adoption and Rescue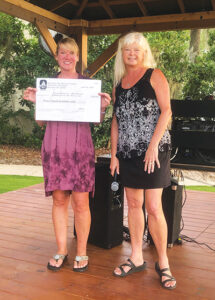 Eight puppies and two kittens were adopted recently during Furbulous Animal Adoption and Rescue hosted by L.J. Schooner's Dockside Restaurant & Oyster Bar at Bluewater Bay Marina Complex in June. The event garnered $250 through the silent auction and L.J. Schooner's donated 10% of lunch sales to the Furbulous Organization which totaled $300.
The Furbulous Organization was again the receipient of the Casino Night Fund Raiser Dart Poker which raised more than $300. For more information, visit the Facebook page.
National Camera Day Digital Scavenger Hunt
Winners of the 1st Annual National Camera Day Digital Scavenger Hunt at Bluewater Bay Marina Complex are Elise and Kai Murrelo. Elise and Kai explored the Bluewater Bay Marina and surrounding community to take digital photos and electronically submit for judging in the contest. The 2021 list will be available on May 3, 2021, and the digital submissions due June 29, 2021, on National Camera Day for next year's contest. Call Bluewater Bay Marina at 850-897-2821.
Northwest Florida Ballet (NFB) Open for Community School Class Registration
Registration is now open for NFB's Community School classes which begin on August 3. In-studio classes as well as some virtual classes via Zoom are being offered. Various styles of dance are available for adults and children of all skill levels. NFB will follow CDC recommendations to ensure a healthy and safe environment for our dancers, faculty and staff. Visit nfballet.org.
ECCAC Announces 2020/2021 Board of Directors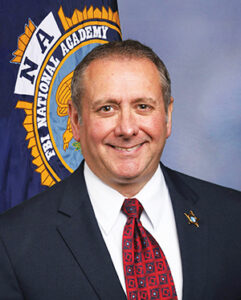 The Emerald Coast Children's Advocacy Center (ECCAC) has a new 2020/2021 board of directors and officers: The Walton County Sherriff Office's (WCSO) Major Audie Rowell is President; Janet Parker is Vice President; and Alan Wood is Treasurer. Other members include immediate past president, Bill Fletcher, along with Tammy Pierce, Eric Aden, Todd Bierbaum, Shaun Eubanks, Velia Lala, Renee Pellegrino, Artie Rodriguez, Tom Saffel, Michael Thompson, Annie Stutts and Demetrius Fuller.
ECCAC provides services in a child-friendly environment to help identify, treat and support children in abusive situations, as well as helping to prevent child abuse through education and prevention programs. With a Center in Okaloosa County and the Pierce Family Center in Walton County, they house representatives from the Florida Department of Children and Families, Child Protection Team, State Attorney's Office, local law enforcement, licensed mental health counselors, and ECCAC's staff and volunteers. In ECCAC's 20-year history, over 15,000 children have received more than 170,000 services at no cost. Visit www.eccac.org or call 850-833-9237. If abuse is suspected, call the anonymous Florida Abuse Hotline at 1-800-96-ABUSE.
Cram the Van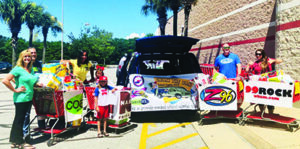 United Way Emerald Coast and their community partners are hosting the annual Cram the Van school supply drive for students in Okaloosa and Walton County! This year, there are four different ways to donate: at the event at Staples in Crestview, Saturday, July 25, 2020, 10 a.m. – 4 p.m. or through text donation, online donations, and by purchasing items off the Amazon wish list through Saturday, August 15, 2020.
Shopping List: Crayons, Colored Pencils, Washable Markers, Dry, Erase Markers, Folders, Backpack, #2 Pencils, Glue Sticks, Notebooks or Composition Notebooks, and Loose Leaf Paper.
For more information, contact United Way Emerald Coast's Education Coordinator, Jackie Schulte, at jackie@united-way.org or 850-243-0315.
Text Donation: Text CRAMTHEVAN to 41444
Online Donation:
Amazon Wishlist: https://bit.ly/CTVAmazonWishlist
Make a Gift Online: https://bit.ly/MakeAGiftCTV
Leadership Walton
The Walton Area Chamber of Commerce is taking applications for the 2020-2021 Leadership Walton Class online until Sept. 7. The program is designed in eight monthly sessions, beginning with an overnight retreat. Each session thereafter focuses on skills, including team building, mentoring, communication, organizational leadership, government, time management, and servanthood. It includes interactive field trips, tours of our area's greatest assets and a Dale Carnegie professional training course.
Enrollment is $1,375 for employees of WAC member businesses or $1,675 for future Chamber member businesses. Tuition includes all course materials, assessments, supplies and refreshments. To enroll or learn more about the program, visit https://www.waltonareachamber.com/leadership-walton/.