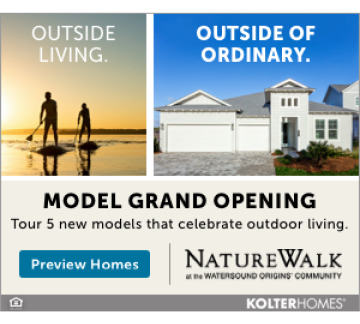 Gov. Ron DeSantis recently announced four judicial appointments, one our own local Jonathan "Jack" Schlechter of Niceville, to serve as Judge on the Okaloosa County Court. Schlechter has worked as an attorney at AnchorsGordon, P.A. since 2019. Previously, he served as an Assistant State Attorney for 10 years in the First Judicial Circuit. He received his bachelor's degree from the University of Florida and his law degree from Florida Coastal. Schlechter fills the judicial vacancy created by the retirement of Judge Patricia Grinsted.
The Freeport Republicans will meet February 8 in Freeport at the Hammock Bay Clubhouse, 1830 Great Hammock Bend. Registration begins at 5:30 p.m.; meeting 6-7 p.m. This month's speaker is Ms. Lane Watkins, speaking on National Heritage Areas. The club meets monthly on the second Tuesday of each month at the same location and time. NOTE: The Walton County "Mom's For Liberty" group will be meeting monthly at the Hammock Bay Clubhouse – theater @ 7:15 p.m., which is directly after the Freeport Republican's meeting. FMI contact Krissa Johansen at kriss.johansen@gmail.com
The Walton County Democratic Women recently contributed books suitable for children 0 to 3 years of age to the Jo Ann Birge Women and Children's Center in DeFuniak Springs, a substance abuse facility for pregnant or postpartum women recovering from substance abuse. The club has a strong commitment to community service and the provision of these books continued its history of providing books to libraries, museums and other facilities. For further information about the Democratic Women please visit www.waltoncountydwc.org.
Impact100 of Northwest Florida is recruiting members to join its 2022 membership base. Nonprofits need support to provide services to those in need in Okaloosa and Walton County. We welcome women 18 years or older to come to a membership event, meet the members, and learn how they can become a positive force for good in their local community.
For a listing of this year's dates and further details, visit www.impactnwf.org or Facebook @ImpactNWF. Women between the ages of 21 to 39, who might not have the financial resources to join Impact100 NWF, can apply for a scholarship called the NextGen Program at www.impactnwf.org/nextgen-program/. Impact100 NWF's successful community outreach has granted over $3.6 Million within Okaloosa and Walton counties over the past 10 years.
Want to be a Lifeguard? Okaloosa County is holding tryouts every Wednesday and Friday at 8:30 a.m. through February. Pay, after training, starts at $18 per hour. Interested applicants should arrive at the Beach Safety headquarters located between The Boardwalk and Angler's on Okaloosa Island. View the job listing at https://www.governmentjobs.com/careers/okaloosa/jobs/3347804/beach-lifeguard-temporary?pagetype=jobOpportunitiesJobs. For questions and more information call: 850-259-4131.
Wine & Fries will be held on Friday, February 18th on the incredible Ara Rooftop Pool & Lounge located at Hotel Effie Sandestin (1 Grand Sandestin Blvd., Miramar Beach, FL 32550) from 6pm-9pm. Tickets are $100 each. You can purchase tickets online by visiting rmhc-nwfl.org/wineandfries. Wine & Fries will feature a wine tasting and menu catered by Hotel Effie Sandestin, and of course, McDonald's French fries donated by Costa McDonald's. During the night, guests will have the chance to bid on auction items, sample a selection of wines and kick off their 2022 in style while partying for a purpose.