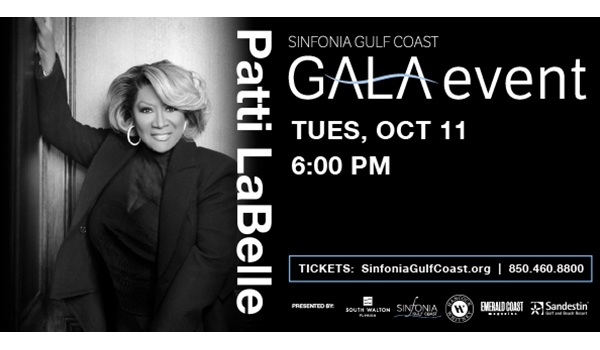 Jojo's Coffee and Goodness recently hosted the First Lady of Florida, Casey DeSantis, to launch the Mamas for Desantis campaign. Mamas for DeSantis is a grassroots effort bringing together a million mamas from across our state to mobilize for Florida Gov. Ron DeSantis.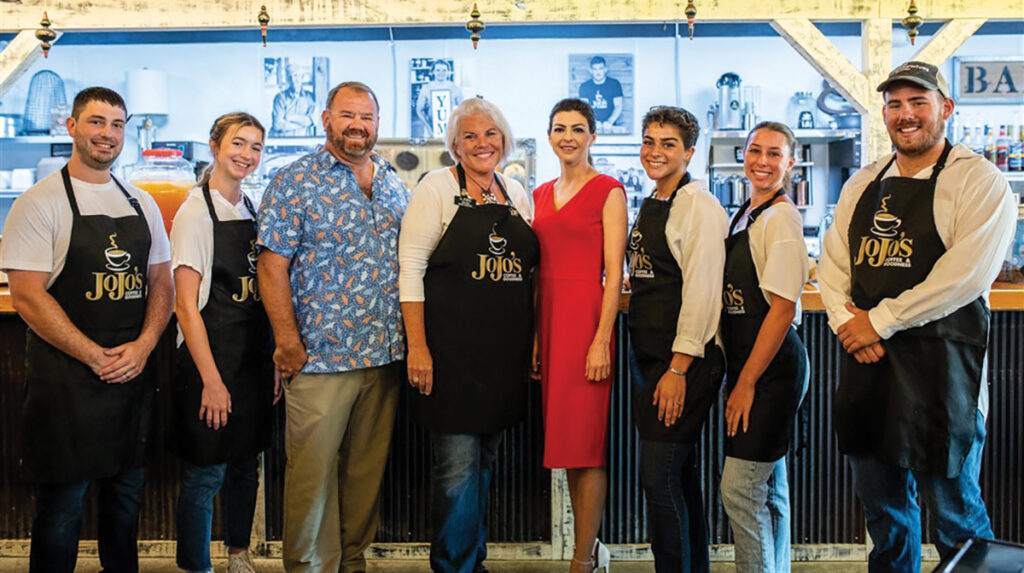 The Okaloosa County 2022 communications survey is available now as a brief online poll. The 18-question survey takes about five minutes to fill out and can be found at myokaloosa.com/cc/survey or direct at www.surveymonkey.com/r/WYBZLGX. Your responses will be used by the county "to continuously improve the way we communicate with our community, help us to make adaptations in our messaging and supply informed data in our Annual Report," said April Sarver, Okaloosa County Public Information Officer. The survey ends on Aug. 31.
On Saturday Aug. 6, the Heritage Museum will have an Ice cream social with Chef Marcus Hencinski. $12 non-members & $10 for members. A maximum of 20 kids will learn how to make ice cream from scratch as well as a brief history on the frozen treat. The class is from 1-3 p.m. and, of course, the kids will get to taste test what they've made. The museum also offers a Kids Watercolor class with Corina Zalace on Aug. 20 from 11 a.m.-1 p.m. at $35 a person. All supplies are included, and kids will get to take home their own watercolor art piece. Limited to 15 students. Call (850) 678-2615 to register and pay. 115 Westview Ave. Valparaiso FL, 32580. Heritage-museum.org.
The Freeport Republicans will meet Tuesday, Aug. 9 at the Hammock Bay Clubhouse, 1830 Great Hammock Bend, Freeport. Registration begins at 5:30 p.m.; meeting 6-7 p.m. August's speaker is U.S. Rep. Matt Gaetz, who represents Florida's 1st Congressional DIstrict. The club meets the second Tuesday of each month at the same location and time. Future meeting is Sept. 13.
The Walton County Republican Executive Committee (REC) will meet Monday, Aug. 15 at the Hammock Bay Clubhouse, 1830 Great Hammock Bend, Freeport. Registration begins at 5:30 p.m.; meeting 6-7 p.m. These meetings are open to Republicans in Walton County. The REC meets monthly on the third Monday of each month at the same location and time.
Eucheeanna Chapter National Society Daughters of the American Colonists (DAC) will hold its next meeting Sept. 7; guests are welcome. DAC is a lineage society whose objective is patriotic, historical and educational; to make research as to the history and deeds of the American colonists. Women 18 and older who can document their lineage to the American colonies, 1607 to July 4, 1776, may join. For more information, contact Margaret Nichols at (850) 897-1278.
Costa Enterprises McDonald's Freeport location raised $3,765 in round up donations in 2021 for Ronald McDonald House Charities of Northwest Florida. These funds were raised throughout the year by customers who rounded up their totals to the nearest dollar. Out of 60 McDonald's restaurant locations in Northwest Florida, the Freeport location raised the highest amount for the year. It celebrated this accomplishment with a surprise party for the employees and general manager, Christina, who encouraged their customers and community to round up their purchases.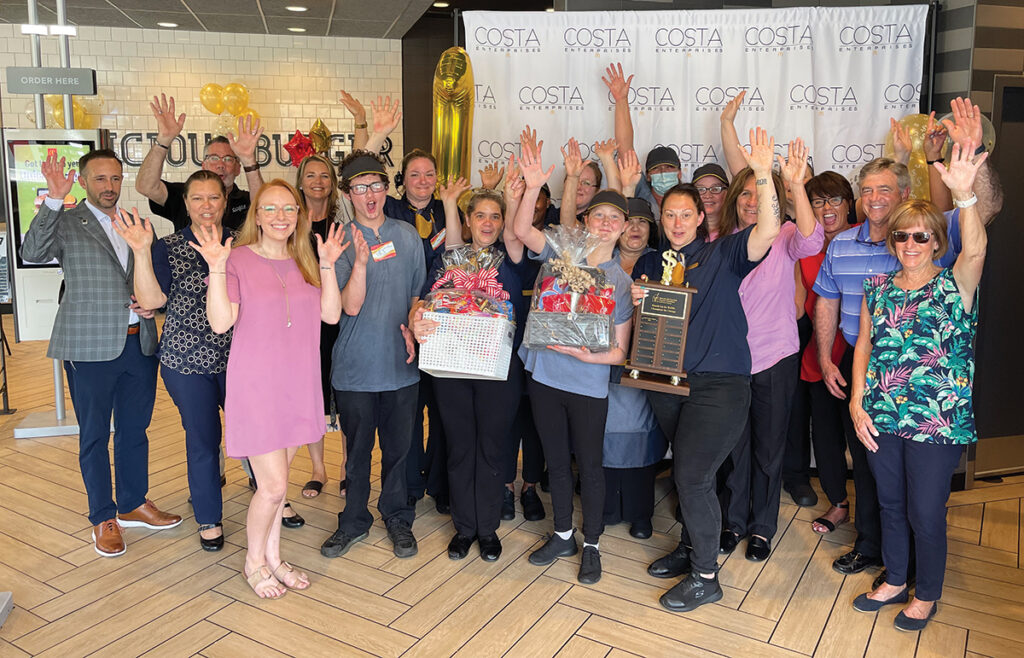 Jessica Landry, Okaloosa County's 2021 Teacher of the Year, has been named assistant principal of Bluewater Elementary School. Jessica attended Ruckel Middle School and graduated from Niceville High School. She also served as an adjunct professor in the teacher education program at NWFSC and is a member of the Florida Teacher Lead Network. She has a bachelor's degree in elementary education from NWFSC.
Melissa Kearley, a Niceville native, has been named principal of Edge Elementary School in Niceville. She grew up attending Okaloosa County schools, then attended the University of West Florida where she earned a bachelor's degree in elementary education and a master's degree in educational leadership.
CALM will have a groundbreaking ceremony for CALM Village on Monday, Sept. 12, 4:30 p.m., on its campus, 201 Redwood Ave, Niceville. "We have recognized the lack of affordable housing in our community and, because of this, we have decided to take a leap of faith and are pursuing building up to seven cottages on our property. CALM Village will assist residents to help them successfully achieve self-sufficiency and independent living. This will allow us to serve more people in different ways," said Wanda Siefke, CALM public relations. For more information, visit nicevillecalm.com/calm-village.
After 39 years of active service in the community, the Twin Cities Women's Club is officially dissolved. A contribution of $5,519.32 was recently presented to Chris Stowers of the Northwest Florida State College Foundation for the Twin Cities Woman's Club Scholarship Endowment. The scholarship, which began in 1989, was originally known as the "Evelyn Hollfelder Displaced Homemakers Scholarship to benefit the Okaloosa Walton Community College Single Parent/Displaced Homemakers Program." The program provided "career assessment, occupational counseling, as well as, social and emotional support, and other skills necessary for participants to become self-sufficient." Club members may continue to support the TCWC scholarship endowment with private donations. From left: Rhonda Davis, TCWC Education Committee member and publicity chairman, Mary Corbett, TCWC Education Committee co-chairman, Chris Stowers, NWFSC Foundation executive director, and Kissy Gordon, TCWC president. Additionally, the Club gave a $600 gift certificate to Twin Cities Pavilion for Grocery Outlet.
Our Better Business Bureau® Serving Northwest Florida Foundation recently announced the graduating senior recipients of the 2022 BBB Student Ethics Scholarships in District II (Okaloosa and Walton counties): Tiana Jordan Leal Fontejon, Niceville High School, Payden Wayne Ealum, Walton High School and Stella Kathryn Hurley, Baker High School. The program recognizes high school seniors in the Florida Panhandle who personify personal character, integrity and moral compass. An independent panel of judges selected the recipients based on leadership, community service, overall personal integrity and academic history. Each student receives a $1,000 scholarship to the college/trade/university or vocational school of their choice. Visit www.bbb.org.
Registration for the Boys & Girls Clubs of the Emerald Coast 2022-2023 After School Program began July 11. Registration will take place in person at your local Club (not online). Okaloosa County After School Program begins Aug. 10, and ends May 25, 2 – 6:30 p.m.. Have questions? Call at (850) 862-1616.
Walton County is seeking public input as it begins the creation of a new strategic plan, which will help guide the direction of county efforts based on strategic priority areas established by the Board of County Commissioners through two public workshops this May. County residents can fill out a short online survey at www.surveymonkey.com/r/PJ79TRR by Sept. 30. The feedback collected through the survey will be provided to the County's senior management team and the County Commissioners for use in defining actions for the next three to five years. For more information, contact Rachel Jenkins, Public Information Officer, at (850) 892-8155 or jenrachel@co.walton.fl.us.
The Building Industry Association of Okaloosa and Walton Counties will host an inaugural BIA Hammers & Hotrods Car Show Aug. 27. Open to the public, the first-time event will be held at the Okaloosa Technical College at 10 a.m. and is made possible by Platinum Sponsor, TRU Plumbing and Gas. Visit https://fb.me/e/4JzQy6iTa for more information. For more information, call the BIA at (850) 863-5107 or visit www.biaow.org.
Brian Haugen, Senior Vice President at Emerald Coast Wealth Advisors of Raymond James, Destin, received honorable mention in the 16th Annual Invest in Others Awards for his philanthropic contributions to the Taylor Haugen Foundation. The Invest in Others Awards recognizes the charitable work of financial advisors in communities across the country and around the world. Through collaboration with vendors, the foundation's YESS© Program (Youth Equipment for Sports Safety) provides interested secondary schools and leagues with state-of-the-art abdominal safety equipment.
Eglin Federal Credit Union was recognized by the League of Southeastern Credit Unions and Affiliates as Credit Union of the Year in Florida for 2021 in the category of more than $500 million in assets. LSCU & Affiliates selected Eglin FCU for its outstanding service to members and the communities served. Some of the Credit Union's most recent impactful giving projects were helping launch an Okaloosa County Schools suicide-prevention program with the Hope Squad as a title sponsor, and working to expand financial literacy in the classroom. EFCU continues to work closely with the United Way to give back during their Annual Day of Caring, having sponsored and participated in this event for over 17 years. Employees have painted, cleaned, organized, gardened and more to help fill the needs of our community. Follow EFCU on Facebook, Instagram, YouTube and LinkedIn or visit www.eglinfcu.org.
This will be the 12th Year of services for Food For Thought Outreach. For the past eight years, FFT has kicked off its backpack program with the Annual Stock the Pantry Party. This friendly team competition provides funds and food to start FFT's programs each year. Food Drive and Fundraising Teams will have eight weeks to collect food or funds in support of FFT's programs and results will be shared during its Stock the Pantry Party Aug. 25.
Visit fftfl.org/pages/stock-the-pantry-2022. Or to register your team email support@fftfl.org.
The Walton Area Chamber of Commerce will host "The Next BIG Thing" Tuesday, Sept. 6, at the Hilton Sandestin Beach Golf Resort and Spa and is seeking speakers for this year's event. Are you an expert in topics such as leadership, entrepreneurship, women in business and women empowerment?. Fill out an application by Monday, Aug. 1. Visit https://bit.ly/2022WACCSpeakerApp to view and submit an application. Area businesses interested in sponsoring should contact Gabrielle Kilgore at (850) 892-3191 or Gabrielle@WaltonAreaChamber.com.