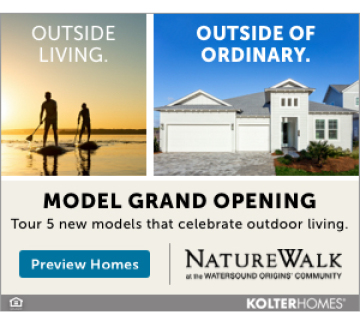 Big Brothers Big Sisters Needs Bigs
Big Brothers Big Sisters of Northwest Florida (BBBSNWFL) has launched its March MATCHness recruitment campaign, aiming to recruit 30 Bigs in 30 days to help fill their bracket and match new mentors with local youth. To play off the National Collegiate Athletic Association's (NCAA).
March Madness basketball tournament, BBBSNWFL has created this fun campaign to recruit mentors for its life-changing mentoring programs. There are almost 100 children who are currently waiting for their Big Brother or Big Sister. Throughout the past year, children have been challenged in many ways, which is why BBBSNWFL needs mentors to provide consistency and stability for Northwest Florida children. BBBSNWFL requires in-person contact with your Little 2-4 times a month and a weekly touchpoint via call, text, email, etc. Virtual contact is also acceptable. A Little can be easily incorporated into the Bigs' everyday life! Now is the time to be the game-changer in a child's life. Anyone interested in becoming a Big can visit the BBBSNWFL website at bbbsnwfl.org/get-involved, or call (850) 433-5437 for Escambia/ Santa Rosa/Okaloosa/Walton Counties or (850) 763-5437 for Bay County.
Congratulations to Okaloosa County's Art in the Capitol Winner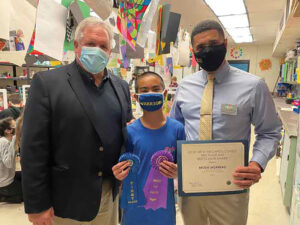 Ruckel Middle School 7th-grade student Brodie Lacanilao is the school district's winner in the state's Art in the Capitol competition. Lacanilao's winning entry, a portrait entitled ZHC, is now on display in the Florida Capitol. Gina Piccorossi is Lacanilao's art teacher at RMS. The Art in the Capitol Competition is a statewide visual arts competition for Florida students in grades 6 through 8. Each school district holds an annual art competition with artwork judged by a selection committee consisting of art teachers. The winning art from each district is displayed in the Capitol during the legislative session.
Congratulations to Okaloosa County's Teacher of the Year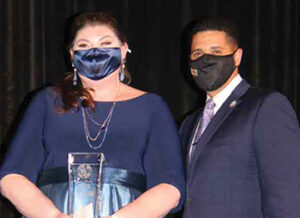 Now in her ninth year of teaching and loving it just as much, Jessica Landry of Plew Elementary School has been named the Okaloosa County School District's Teacher of the Year. Jessica along with the other finalists, Joy Robertson, Bluewater Elementary School, Megan Mueller, Fort Walton Beach High School, and the School Teachers of the Year, recently were honored and celebrated for their accomplishments in and out of the classroom.
Freeport Library Announces Officers
The Friends of the Freeport Public Library have announced its new officers—Lori Logue as President, Kristine Bacon as Vice-President, Krissy Belayev as Secretary, and Rita Smiley as Treasurer. Their mission is to raise funds exclusively for the support of projects, including capital projects and programs of the Library, and to promote public awareness of the services and programs available through the Freeport branch and the Walton County Library System.
Defuniak Springs Hosts Sprint Triathlon May 15th
Historic DeFuniak Springs is the site of a Sprint Triathlon May 15, hosted by Forward DeFuniak, Inc., a 501c3 organization focused on the progress and preservation of DeFuniak Springs.
Contestants and spectators will enjoy the swim in the perfectly round, crystal-clear lake in the center of town. The bicycle portion is in the rolling timber and farmland east from town into the Eucheeanna Valley. Finally, the running course is set within the historic district that contains many formal and informal architectural styles from the Chautauqua era (circa 1900).
To register, visit dfstriathlon.com.
Cartercraft Roofing, Inc. Celebrates 30 Years in Business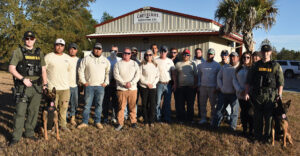 2021 marks the 30th year in business for Cartercraft Roofing. It all started in 1989 when Jamie Carter had a friend with a roofing company who had a lot of work along the Gulf Coast. Jamie worked alongside him for two years, until he decided to strike out on his own. In 1991, Jamie Carter Roofing was founded and later became Cartercraft. Jamie and his wife Desma Carter have continued to uphold their philosophy in business over the last 30 years—honoring their word and giving customers more than they pay for. Their main goal is to be an honest dependable company who can be trusted to do a great job at a good and fair price. The crew continues to learn about new materials and products along with new code changes, but are most excited to have added to their sheet metal shop. Their office is located at 52 N Nick Wilson Way, Freeport, FL 32439. Visit them at cartercraftroofing.com.
Billy Bowlegs is On!
The 2021 Billy Bowlegs Pirate Festival and Torchlight Parade in downtown Fort Walton Beach will be held Friday, April 30, and Saturday, May 1, with the Torchlight Parade set for Monday, May 3. It's the 65th annual festival. In recent years, the pirate festival was held the first weekend in June. For more info, visit fwbchamber.org/events.