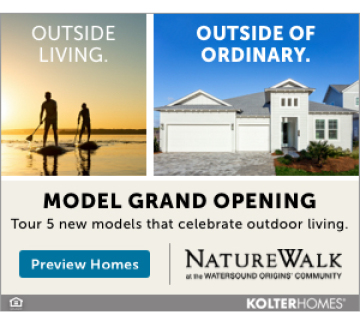 Freeport Merchants Association (FMA) Has a New Website
If you're looking to get introduced to Freeport businesses, the Association's new website is a great resource. Visit thefma.online. Here you'll find area resources, news, a business directory, events and how to join the FMA.
Geek Lights Fans Donate Over $7,000 to C.A.L.M.
The Geek Lights on the Corner Lights and Music Show recently presented $7,086.28 to Crisis Aid for Littles and Moms – C.A.L.M. The amount is the sum of visitor donations collected during the recently completed thirteenth season of the Geek Lights on the Corner, which took place at the corner of Bluewater Blvd and Antiqua Way Nov. 30, 2020, to Jan. 6, 2021. "I want to thank everyone who made donations," said Jeff Werner, proprietor of the show. "Your amazing generosity shattered every previous donation record that we had. This is your donation, not mine, and I'm proud of how much you've helped C.A.L.M. to do their mission."
C.A.L.M. is an all-volunteer organization with a mission to "break the generational bonds of poverty for single moms and their children in Northwest Florida."
Alaqua Animal Refuge Welcomes New Executive Director
Jeff Jacob has become new executive director of Alaqua. Jacob will be responsible for helping to lead the organization during an unprecedented growth period as Alaqua relocates to its permanent home, a multimillion-dollar facility with expanded programs and services. Jacob was selected for this critical role from a nationwide search that garnered more than 50 applicants.
Alaqua Founder Laurie Hood will continue in her role as President to set and drive the vision for the Refuge while strengthening and expanding national partnerships and leadership roles with organizations such as Animal Welfare Action, the Humane Society of the United States, Florida Wildlife Federation, and the E.O Wilson Biophilia Center. She will continue to lead Alaqua's advocacy efforts, rescue operations, coordination with governmental agencies in prosecuting animal cruelty offenders, and supporting their efforts in the judicial system.
Okaloosa County Public Library Cooperative
Okaloosa Libraries are inviting you to complete your education online. Scholarships are available now for Okaloosa adults without a high school diploma but want to advance their careers and prepare for workforce entry or continue their education. There are no out of pocket costs for students and self-paced online classes are available 24/7. Applicants who successfully complete the online self–assessment, the prerequisite course and an in-person interview (at the Niceville Library) will be considered for enrollment. Get started at COHS.OCPLC.org.
Impact100 Hosts Roundtable Conference
Impact100 of Northwest Florida, in conjunction with the Morgridge Family Foundation (MFF), will host a "Future of Giving'' roundtable discussion on Thursday, Feb. 18 starting at 11:30 a.m. The roundtable will explore the seismic cultural changes that are shaping the future of giving where technology, changes in human behaviors, expectations and strategies are forcing us to reconsider how we work together to support and encourage giving in our community. Keynote Speaker Tony Cohn, director of strategy – Morgridge Family Foundation, will be LIVE to highlight and lead a discussion based on key findings of the MFF report "The Future of Giving." This FREE virtual event is open to the public! To register, visit impactnwf.org.
F-15EX Completes First Flight; Two Coming to Eglin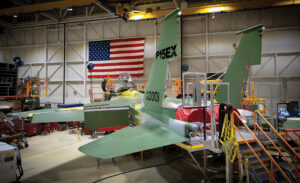 Two F-15EX fighters should be delivered to Eglin Air Force Base by the end of the first quarter of 2021. The first F-15EX completed its initial flight in St. Louis Feb. 2. The latest iteration of the F-15 Eagle Mission Design Series, the F-15EX features an increased payload capacity, fly-by-wire controls, a digital cockpit, modernized sensors, radars and electronic warfare capabilities. The Air Force plans to eventually acquire at least 144 F-15EX fighters.
Holiday Inn Express & Suites Receives Diamond Award
Eglin AFB presented its Diamond Award to Colleen Smith, Director of Sales at the Holiday Inn Express & Suites in Niceville. With funding from Eglin AFA's Chapter and volunteers from our local churches such as Crosspoint and Destiny Worship Center, "Operation Covid 19" provided over 2,500 masks to Eglin AFB.