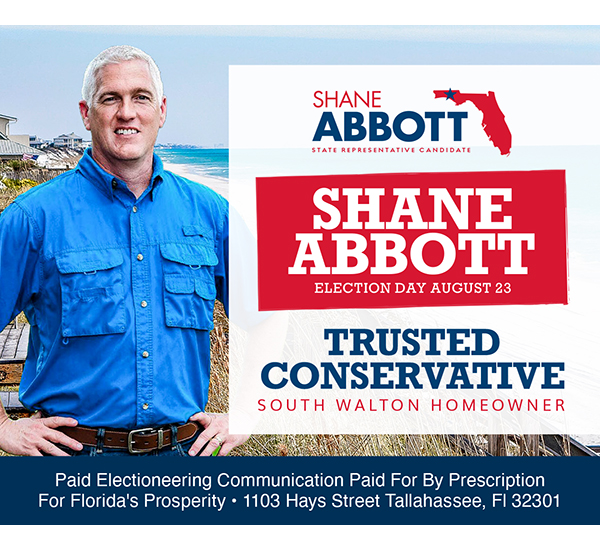 Artful Things Niceville
JUNE
Call the gallery at 850-729-2600 to reserve seating for the following workshops:
4—Adult One-Stroke class with Sheila Mahony. 10:30-1:30. Learn to paint oversized fuschia flowers on a 16×20 canvas in the one-stroke method with certified one-stroke instructor Sheila Mahony. $47.50 per person, supplies included. Ages 16+. Seating is very limited, call the gallery at 850-729-2600 to reserve your spot!
11—Kids Watercolor Cards with Corina Zalace. 10:30-12:30 pm. Children will enjoy making 3-4 watercolor cards with envelopes! All materials are included and no previous experience is necessary. Ages 6 through 12. $37.50 per child. Call the gallery at 850-729-2600 to reserve your child's spot- seating is limited!
14-18—Ken Edwards Memorial Special. Gallery artist, friend and veteran Ken Edwards passed away in 2020; Artful Things Niceville is honoring his memory by donating proceeds from sales of his work during this week directly to his widow, Karen. We miss Ken dearly, and love sharing his talents.
15—Lino Cuts with Chris McLoone. 2-5 p.m. Instructor Chris McLoone walks the class through the fun and unique process of creating "lino cuts"- using sharp tools to carve in blocks of specialized rubber to create stamps or printing blocks! Call the gallery at 850-729-2600 for pricing and booking.
16, 17 & 18—Plein Air Painting with Jeanette Herron. International plein air artist, national award winner and Artful Things Niceville artist Jeanette Herron joins us for a 3-day plein air instruction. Thursday night there will be a demo and lecture from 4:30 to 7:30; Friday and Saturday mornings 8:30 to 12:30 will be instructed by the artist during on-site painting (locations to be determined). $125 for all 3 days; $95 for only 2 days. To reserve your seat, call 850-729-2600. Accepting a very limited number of students.
21, 22, 23 & 24—Kids Camp with artist Marla Armstrong. 10:30-12:30 pm. Kids age 7 and up will have a fun summer in Marla Armstrong's 4-day ART CAMP June 21, 22, 23 & 24! Classes 10:30 to 12:30. Students will be focusing on a different project every day, including a bowl made from confetti, flowers made with crepe paper or plastic bottles, animal pictures made with buttons, necklaces, bracelets or key chains and a box to keep them in. All supplies included. Limited seating. Prices: $40 for 1 class, $75 for 2 classes, $105 for 3 classes and $130 for all 4 classes. Additional kids in the same family will get a discount! To reserve a spot, call 850-729-2600- spots are filling up quickly!
25—*Advanced* Watercolor Angel with Theresia McInnis. 10:30-2:30. Watercolorist Theresia McInnis only teaches this class once every 3-years; in this four-hour workshop, Theresia guides students through achieving the "Antique Angel'' utilizing rivulets and other advanced techniques; class is suitable for adults with some experience in watercolor to those ready to learn advanced techniques. "Advanced" expertise is not required. Cost is $55 with own supplies, $77 supplies included. Limited seating; register via email theresiamcinnis@gmail.com and request an invoice with your choice of supplies included/own supplies.
Ongoing Classes
Rosalyn O'grady – Oil or Acrylics. Tuesday mornings 10 a.m. – noon, $20 per session plus supplies. ogradytr@cox.net. www.RosalynOgrady.com
Theresia Mcinnis-Watercolor Techniques. Tuesday afternoons 12:45-3:45 p.m. $27.50 plus supplies. www.TheresiaMcInnis.com. Sign up: 850-729-2600.
Chris Mcloone-Anime & Drawing Basics. Wednesday afternoons 3:30-4:30 p.m., $15, bring a sketchbook and pencil. Sign up: 850-729-2600
Charlotte Arnold-Open Studio with Live Model, Wednesday mornings 10:30 a.m.-1:30 p.m. Uninstructed-$15, limited to 6 seats. Bring your own supplies, your medium and an easel. Sign up: 850-729-2600
Tues-Fri 10 a.m. – 5 p.m. | Sat 10 a.m. – 3 p.m.
Appointments Available (850) 729-2600 | artfulthingsniceville.com
1087 East, E. John Sims Pkwy in Niceville
Big Orange House Designs
MAY
Now-June 1—Pottery Series
Join for Laurel's POTTERY Series! 6-week journey of creativity! Started Apr 27.
31-—Maglev Train (#HKC)
Explore how this magnetic train works!
Book classes at bigorangehousedesigns.com.
Want to book a private table in a class or host a party? Contact JoJo AT 334-320-6658 or bigorangehousedesigns@gmail.com.
bigorangehousedesigns.com
(850) 737-6193.
4652 Hwy. 20E,
Pineapple Plaza,
Bluewater Bay in Niceville