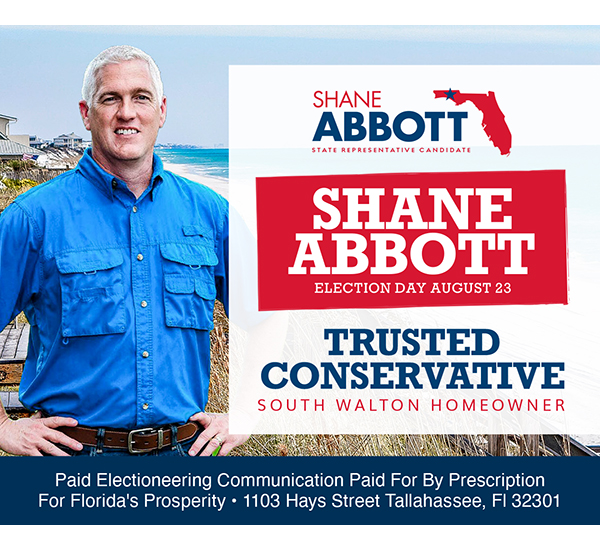 By Lori Leath Smith, Publisher
An average hurricane season typically produces 12 named storms, six of which become hurricanes, including three major hurricanes, according to the 96th Weather Squadron at Eglin Air Force Base. The 2020 hurricane season proved historic for the Atlantic Basin and Gulf Coast with several significant impacts and near misses throughout the region. There were a record-breaking 30 named storms, 14 of which became hurricanes and six which were major hurricanes. The 2021 tropical forecast is for another above average Atlantic hurricane season, which began June 1 and runs through Nov. 30, according to the National Oceanic and Atmospheric Administration. The National Hurricane Center is predicting 13 to 20 named storms in the Atlantic Basin and forecasting six to 10 to become hurricanes and three to five to become potential Category 3 or higher.
So, let's get down to the nitty gritty: What is the greatest killer in hurricanes? According to Patrick Maddox, Okaloosa County Director of Public Safety, it's PAST hurricanes. "It's when someone says, 'I made it through Hurricane X; Hurricane Y is weaker—I'm staying.'"
Think about this:
• Tropical Storm Allison (2001), "only" a Tropical Storm, saw 37" of rain in Port of Houston and caused 5 billion in damage.
• Hurricane Opal (1995) Cat. 3 saw a 24 ft. storm tide in Fort Walton Beach with 3 billion worth of damage.
• Hurricane Ike (2008), only a Cat. 2 saw a huge wind field with 15-20 ft. storm surge in Galveston Beach, Texas, with 25 billion in damage.
• Hurricane Katrina (2005) a Cat. 5, saw a 28-ft. storm surge on the Mississippi Coast with 74 billion in damage.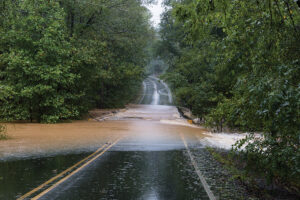 Much of this damage is caused by persistent rainfall which creates dangerous flooding conditions. Several factors contribute to flash-flood risks including the rate of rainfall and how long it lasts. For example, Hurricane Sally dropped 20-30 inches of rain in Okaloosa County alone in 2020, which caused river flooding peaking roughly 24 hours later, which is common.
What you might not know is:
• Only six inches of fast-moving water can knock you off your feet.
• Only one foot of water will float many vehicles.
• Two feet of water will carry away most vehicles.
There's also the storm surge, which is dependent upon the size and direction of the storm, not the strength, and is compounded by the normal astronomical tide to create storm tide. It can travel miles inland and carry debris and dangerous animals. "Water weighs 1700 lbs. per cubic yard and carries potential and kinetic energy," says Patrick. "Wave action on top of storm surge is devastating." Patrick's advice in flooding is "Turn around; don't drown! Don't try to cross moving or standing water. The road you think is there, might not be anymore!"
Of course, wind, too, is a factor and a Category 1 wind speed starts at 74 miles per hour. "If you see obvious danger from damage to structures or roofs, the wind speed is dangerous. Your garage door is vulnerable and a breach there can collapse your roof," says Patrick. Other wind dangers include falling objects from trees or architecture, missiles caused by debris blowing in the wind at high speeds and downed power lines energizing other objects. "Don't be sung to sleep by the eye of the storm either," says Patrick. "Don't venture outside—If you're in the eye, the backside of the storm is minutes away. Winds will be from a different direction and will dislodge other debris."
In all, "HIDE from wind; RUN from water," says Patrick. "Don't attempt to cross fast-moving water. Deep water can hide dangerous debris, animals and downed power lines."
Okaloosa and Walton Counties have Emergency Operations Centers (EOC) which activate upon Levels 1-3. In Okaloosa County, up to 200 personnel that operate 21 emergency support functions manage the threat of Hurricane activity. When a Declaration of Emergency is made, EOC is activated to Level 1 and a citizens' information line is established. Shelters are opened on a timeline determined by the estimated arrival of tropical conditions.
In Okaloosa County, shelters are planned in advance based upon expected impacts and include Davidson and Shoal River Middle Schools, Riverside Elementary School and Raider Arena. In Walton County, Freeport High School is the first shelter opened and is a general population, pet friendly and special needs shelter. You must pre-register for the special needs shelter at www.co.walton.fl.us/1194/Special-Needs-Shelter-Registration.
Transportation to Okaloosa County shelters, including most special needs residents accompanied by a caregiver, can be provided by Emerald Coast Rider, (850) 833.9168. Make arrangements early—E.C. Rider will not operate in unsafe conditions. "Shelters are not going to be comfortable," says Patrick. "They are meant to temporarily shelter people from the fury of a storm AS A LAST RESORT!" The Red Cross, DOH and Schoolboard employees will assist with shelter depending on location and designation.
"Obey evacuation orders," says Patrick. "They are usually issued for water—not wind. And if you shelter in place, emergency services may be significantly delayed or totally unavailable for periods of time." Access your county's website (www.MyOkaloosa.com or www.waltoncountyem.org.) to get informed on the most up to date evacuation routes and evacuation zones. Storm surge maps are located there as well.
Plan to evacuate early. "Don't plan an evacuation timeline based upon the forecasted 'cone of concern,'" says Patrick. "This only addresses the probable center of the storm, but tropical storm force winds extend out hundreds of miles from the center. So, you should evacuate more than 24 hours prior to arrival of these conditions, because you will encounter unexpected delays and failures." For example, your vehicle might break down or you need gas, and the line is incredibly long. Note: Sometimes tolls on certain roads and bridges are lifted to temporarily reverse the flow of traffic on main arteries.
Plan early well before the storm! Use resources and REHEARSE plans with your family. Patrick relayed that it's one thing to have a plan, but it's quite another to rehearse through the whole thing—you will likely discover something is needed or your process needs to be refined.
Visit myokaloosa.com/ps/emergency-management (Okaloosa County website) to download the new 2021 Hurricane Guide. Here you'll also find out what to do if a warning is issued, pet planning, pool and storm preparation, evacuation zones, routes, shelter locations, what to bring to a shelter, special needs, the emergency planning info/kit inventory, clean-up and sign up for Alert Okaloosa Registry. The Okaloosa County Citizen's information line is (311 or 609-7000). Visit Myokaloosa.com. Visit AlertOkaloosa.com to sign up for alerts and daily updates and https://www.facebook.com/OkaloosaCounty for timely storm-related updates.
In Walton County, visit www.co.walton.fl.us/1076/Hurricane-Season-Frequently-Asked-Questi. To receive updates, follow Facebook: Walton County Emergency Management, Twitter: @WaltonCountyEM, visit www.waltoncountyem.org or when the Walton County EOC is activated, contact the Citizen Information Line at (850) 892-8392 or (850) 892-8394.
Visit www.Ready.gov/hurricanes (FEMA) or www.eglin.af.mil/About-Us/Hurricane-Season for additional hurricane disaster preparation and timelines. For a vital preparedness checklist and more information, visit www.beready.af.mil.