Fiesta Like There's No Mañana!
A Weekend of Tequila and Tacos Comes to Seascape Towne Centre
As the saying goes, "If you're having a taco emergency, call Nine Juan Juan!" Extreme Festivals & Events and Seascape Towne Centre are hosting the 7th Annual Tequila & Taco Fest March 6-8—a full weekend of savory tacos, smooth Tequilas, live music and contests…and FUN!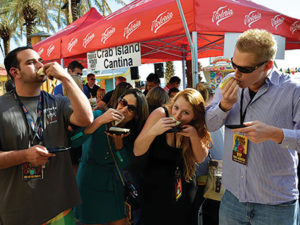 The brainchild of Chef/Restaurateur and founder of Carlito's Products, Carlos Shaffran, the event has grown significantly since being founded in 2012. "Locals and guests from all over the Southeast come to celebrate this unique event right here on our Emerald Coast," says Carlos. Initially planned to be a restaurant event, Tequila & Taco Fest quickly grew to become the second largest festival event formerly held on the Destin Harbor aside from The Destin Seafood Festival. Because of its popularity, the event has moved to a larger venue in Miramar Beach, "Seascape Town Center" located right off Hwy. 98 near the Silver Sands Outlet Mall. This great new location will allow more vendors and more tequila booths. "We're excited to be the new host venue for this popular event and look forward to continuing to be part of the growth year after year," says Ron Mote of Seascape Towne Centre. "We strive to create new, one-of-a-kind experiences for our guests to enjoy."
During the event, you'll be able to taste and sample an array of fresh tacos prepared with local ingredients and celebrate the finest Tequila and Taco pairings along the coast! More than 20 participating restaurants will serve mouth-watering tacos with exotic twists on beef, pork, chicken, fish and shrimp. Vegan options and traditional Latin tacos will also be available. "It's really a great place to experience some off-the-wall tacos you may have never considered," says Shaffron.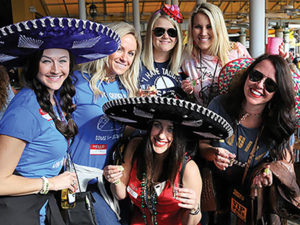 And with more than 30 or more different Tequilas, can you really go wrong? You'll experience specialty Tequila Margarita's and Tequila shots. "The education process of learning about different types of Tequila is phenomenal," Shaffran explains. "Tequilas with smoky flavors, notes of sweet agave and Blanco Tequilas will be available. Higher end Tequilas, including Don Julio 1942 and Patron, will be available also in the VIP area," he says.
A weekend of festive fun begins on Friday evening, March 6th at 6 p.m., with a "Bocadillo & Margarita" Kick-Off Party presented by Corralejo Tequila, featuring music from "DJ Vasco" hosted on Mezcals Fiesta Patio. Overlooking Seascape Resort, you'll enjoy an evening of delightful small plates and signature Margaritas! Tickets are $40 and can be purchased at www.efestevents.com.
Tequila & Taco Fest gates open for the main event on Saturday, March 7th at 1 p.m. where you'll sip and savor until 5 p.m. during this flavorful afternoon at Seascape Towne Centre, featuring a large selection of award-winning Tequilas, Margaritas and a variety of chicken, beef, pork, fish and authentic Latin tacos. During the event, judges will vote for their favorite taco. More than 20 local restaurants will compete for the top prize of $2,500 for the 'Best Taco on the Emerald Coast. 'Amongst the 40 different Tequilas and Margaritas for sampling, you'll have the opportunity to try smoky and sweet agave flavors as well as different varieties of Tequila including Resposados, Blancos and Anejos. High-end Tequilas, including Don Julio and Patron, will be available in the VIP area. Live bands and DJ's will play on three stages including "DJ Vasco and Salsa Band "Merengue 4." Little Amigos will delight at face painting, and all will enjoy the Chihuahua beauty contest! You can even show off your football arm by tossing the longest tortilla! To purchase general admission tickets ($50) or VIP tickets ($95), visit www.efestevents.com.
For an ultimate festival experience, the VIP area will host six private taco stations. Barbacoa, Tripas, and pork Guisado are just a few of the taco variations that will be offered along with high end Tequilas and Margaritas exclusively in the VIP area. VIP ticket holders will also receive swag bags filled with branded festival goodies including the official 7th Annual Tequila & Taco Fest T-shirt, ball cap, koozie and more. To purchase tickets ($95), visit www.efestevents.com.
Right after the festival, the Official T&T Fest After Party kicks in at The Village Door Music Hall from 5 to 7 p.m. The $20 entry fee gets you two drink tickets good for either domestic draft beer or well drinks. And if that's not enough, a live concert at the Village Door Music Hall features country singer "Eli Young and His Band." Doors open at 7 p.m. and ticket prices range from $30 to $55.
The weekend concludes on Sunday, March 8th from 11 a.m.-2 p.m. with a Bye-Bye Brunch at ACME Oyster House ($25) which includes one entrée from a special brunch menu, and one Margarita or Bloody Mary.
Plan a Stay & Sip weekend Staycation at the Seascape Golf Beach & Tennis Resort and enjoy being just steps away from all the festivities. This year's festival features an exclusive, all access VIP Weekend Package that includes the following:
• VIP tickets to the Signature "Bocadillo and Margarita" Welcome Pre-Party on Friday, March 6th and a VIP ticket to the 7th annual Tequila & Taco Fest on Saturday
• Bye-Bye Brunch at Mezcal Bar & Grill held on Sunday, March 10
Multiple ticketing tiers include VIP Ultimate Package, VIP, General Admission, Military and No Alcohol Admission. All ticketing tiers include unlimited tacos! Drink tickets are included in the VIP, Military and General Admission tiers. Additional drink tickets are not available; however, participants are welcomed to take advantage of multiple drink specials in the restaurants located at Seascape Towne Center. Seascape Beach & Tennis Resort, Destin Getaways and Gibson Beach Rentals will be offering discounts for accommodations.
If tacos, Tequila and bands aren't incentive enough, a portion of the proceeds from the Tequila & Taco Fest benefits the Boys & Girls Club and Fisher House Foundation. Shaffran concludes, "It really is a big party!"
This is a rain or shine event.