A Bed 4 Me Celebrates 1,000th Bed Delivery
By Lori Leath Smith
"I'm so overwhelmed! The girls are lying in bed giggling! Thank you so much. Y'all are amazing! May God bless many more babies. We can't thank you enough! —The Grier Family
'My little boy is one happy little boy! He loves his Spiderman bed sheets! Nobody can touch! Thank you so much."
"This is the greatest group of folks! ALWAYS so warm and welcoming. They really make families feel at ease and a part of a thoughtful and important improvement to their home lives."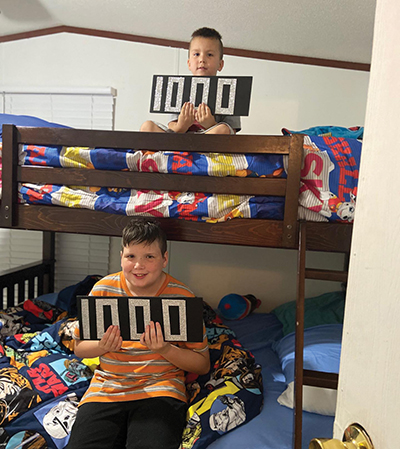 A grand delivery! A milestone celebration! The non-profit organization, A Bed 4 Me, recently celebrated its 1,000th bed delivery! Four children received new beds after a Ft. Walton Beach Chamber ribbon cutting and grand delivery. Executive Director Diane Freeman reminisced about the group's start in 2016. "Imagine bedtime without a bed. That is a reality for many children all across Okaloosa County." Then, in the first year and a half, "A Bed 4 Me" served over 270 children.
In the beginning through generous local business partnerships and now, mostly, through donations, mattresses are delivered to an applicant's home who is usually referred by a social services agency. "Community caring is what this effort is all about," says Diane.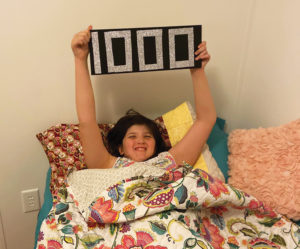 Included with the new bed are a new frame, mattress, comforter, sheets and pillow. Each is personalized after an interview with a child is conducted; A Bed 4 Me volunteer obtains the child's favorites, such as colors, super heroes or sports teams. "One of the most rewarding and fun aspects of this," says Diane, "is that it's interactive. Not online, but the child actually gets to play an active role in the bed delivery process, helping to carry the essentials to their space and make his or her bed. We call it 'decorating the bed.'"
A Bed 4 Me has grown and streamlined services and operations. In partnership with the Okaloosa County school district, A Bed 4 Me can now store bedding and bedding materials in a district warehouse, a great need. It also received a grant from Impact 100 in 2019 for a van of its own to help with pickup and delivery.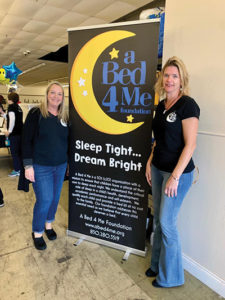 Diane says they hope to expand in the future. "We understand the critical role of sleep in a child's development, health, academic performance and self-esteem," says Diane. "A Bed 4 Me qualifies each child and provides a bedding kit at no cost to the families. We want to ensure that children have a place of their own to sleep each night."
The Foundation serves children ages 2-18 from low to middle income families within the Okaloosa County area. After a referral and introductory visit are completed, new bedding is provided for those with economic struggles or lack of financial resources, or those who have been displaced or starting over due to domestic issues. "Our teams have found children sleeping on floors, sofas, recliners, floor pallets or crammed into beds with siblings or parents," says Diane. But, she says, "we can touch the life of a child in one moment that will carry on for years to come by providing a place for them to sleep, dream and feel cherished."
The foundation will thankfully accept donations of cash or gift cards to Amazon or Walmart. If you'd still like to shop, a few items they can always use are twin size, solid color sheets in any color except white. Also, twin size solid color comforters are always needed—pink, purple, red, blue or black – no white please.
Another way to help is by attending the 4th Annual Dinner of Dreams to be held at 3rd Planet Brewing in Niceville—date to be determined, so stay tuned! The night includes live jazz, specialty beer and wine, main street style outdoor dining to include a four-course meal prepared by local restaurant favorites and paired with wine.
For more information, to access an application or to donate, visit www.abed4me.org, call 850.280.5519 or email diane@abed4me.org.
"Thank you for supporting the dreams of children in our community," says Diane. "I'm looking forward to the next 1,000! Keep dreaming with us!"