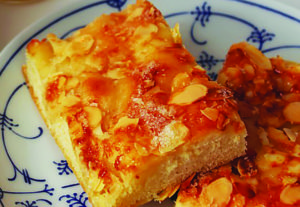 For the Dough:
– Wheat Flour 500g (1.1 lb.)
– Yeast 1 Tbsp.
– Sugar 50 g (2 oz.)
– Vanilla Sugar 1 pk.
– Salt 1 pinch
– Egg 1 pc – Milk 250 ml
(8.5 fl. oz.)
– Butter, soft 100 g (3.5 oz.)
– Flour for working surface
For the Topping:
– Butter 200g (7 oz.)
– Sugar 125g (4.4 oz.)
– Vanilla Sugar 1 pk.
– Almonds, sliced 150 g (5.3 oz.)
Heat the milk hand warm for the dough. Dissolve the yeast in the warm milk and stir in. Dissolve the flour in it. Process with sugar, butter, vanilla sugar, salt and egg with the kneading hooks of the hand mixer and later with your hands to a smooth dough. Then let the dough rise for an hour.
Knead the dough again briefly on a lightly floured work surface, shape it into a roll and roll it out on the baking sheet.
Spread the butter in flakes evenly over the dough. Mix sugar and vanilla sugar, sprinkle over it and spread the almonds evenly over it.
Let the cake rest for 15 minutes. Put the tray in the oven and bake for 20 minutes at 390 °F top / bottom heat.
Enjoy!
Dirk Bosner, owner
The Schnitzel Lodge